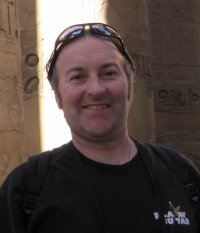 Author Mike Cooley says his writing is action oriented. He likes jumping right into the thick of a story and then "going for broke." He says he stays away from overly-descriptive scene-setting because that's not the way he thinks. "I am very visually oriented as well and I like exploring human nature and psychology."
Mike says he is heavily influenced by writers like Phillip K. Dick, James Tiptree Jr., Harlan Ellison, and Roger Zelazny, although he doesn't think he writes like any of them.
Mike says many of his stories are very character-centric, and his inspiration comes from everywhere. "Ideas are all around us. I've never had a shortage."
Rather than a drought of ideas, Mike more often has to contend with a flood. "By far the most challenging thing about writing for me is focusing. I tend to work on many projects at once. I used to let that stop me. But now I just allow myself to work on three things at a time. As long as I keep finishing things I've decided to stop beating myself up for working on one thing when I 'should' be working on another," he says.
He is very enthusiastic about the use of beta readers. "God yes! I love my beta readers. I typically do a first draft, then a second, and then find some beta readers to go over it and see if I'm making sense. I specifically tell them not to worry too much about spelling and grammar since I also have my work copy edited after I fix things the beta readers find. I highly recommend beta readers."
Like many indie authors, Mike relies predominately on social media for promotion. He also releases short works for free as a promotional tool. He says, "I have never paid for any advertising but I am considering it. People I know have used Pixel Of Ink advertising and had great results. I spend most of my writing budget on copy-editing and cover art."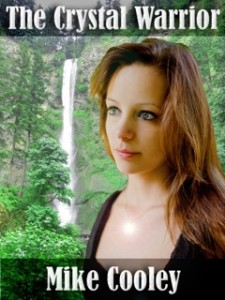 Some of the other indie authors Mike has read include Chuck Wendig, David Gaugran, Melissa Smith, Karin Cox, and Tracy McBride. He says he hasn't read as many as he'd like because most of his time is taken up with his own writing, but his TBR pile is now about 30 deep with other indies.
Mike advises aspiring authors not to try to write like anyone else. "What you are really selling as a writer is you. Be gracious to readers and reviewers and take criticism well. Always try to get better. Make sure your work is the best it can be before publishing it. Get your work edited. Stay positive. It takes time to build an audience."
Mike says, "One of the best things about being an indie writer is all the other indie writers! They are so supportive and just great people. I love being in writer groups on facebook and elsewhere. Writers are fascinating."
Mike's current novel is The Crystal Warrior. It's an action-packed epic fantasy novel full of good and evil and monsters and madness. From the book description at Smashwords:
Larissya's life changes forever when her Grandmother gives her a magic crystal that shows her glimpses of the future. Hunted by mercenaries and an evil group known as the Triad, she is rescued by a large brute of a man named Talos and his band of diminutive followers.
She soon discovers that everyone thinks she is the one referred to in legend as The Crystal Warrior. And that her destiny is to gather the magic crystals and lead an epic battle against the Triad. A battle that will determine the fate of Agorai itself. But she doesn't yet believe that she is the one.
The Triad has other plans. Plans that involve capturing the crystals and using their powers for themselves. Plans that involve murder, madness and pain. They have been waiting a long, long time for the Warrior to awaken.
From the magic swords Shakari and Antare, to the gigantic reptilian bird known as Taradahn, to the mysterious worm of power called Ishak, to the magnificent tree city of Frizl, Larissya's story is full of wonder—and darkness.
Will she triumph over the forces of evil? Will she obtain the power of the crystals? Will she be able to save her friends? Or will they die at her side?
The book does not yet have a lot of reviews, but all have been very positive, including three 5-star reviews on Amazon, and a four and a five star review on Smashwords.
Find out more about Mike Cooley and his writing on his blog. You can find The Crystal Warrior on Amazon or Smashwords.