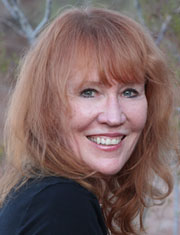 Can it be possible for someone who has never taken a writing class, or had a dream of publishing a book to actually produce a polished novel without any formal guidance? I found the answer is "yes", although I'm not sure I would recommend it to everyone. I am just lucky enough to have a cadre of creative friends who were willing to give or barter their services because of their belief in me. Let me tell you the story of Magic Bridge.
Almost every weekend, we head up a dirt road to a tiny little town in the mountains outside of Phoenix, Arizona. Very few know of Crown King, but we like to call it the best-kept secret in Arizona. Potential stories abound in our hamlet, and some producer is missing a great opportunity for a reality show.
On the drive up one Friday afternoon, while we were ruminating over the events of the past week, my husband uttered the words which started a cascade of events: "What if you wrote a book about two people who make a promise that they won't let the other suffer needlessly when their time comes, and after it is over the one remaining will return to their favorite places to spread the ashes?" As an extensive reader I thought, "Hmmm, interesting premise. I'd read that book."
That statement became the fodder for conversations on "our" dirt road for the next six months. We have travelled extensively around the world, so most of the time we spoke of what places we would pick for our work of fiction. At other times, we spoke of the reality of death, and how difficult it would be to honor that commitment. As a nurse, I've seen many situations where the family is at a loss after their loved one is gone.
So I sat down and started writing, produced about fifty pages, and sent it to my best friend to peruse. She loved it (of course she did, she IS my best friend). About a year later she asked, "Hey Thomasina, what ever happened to your book? I loved that idea." Thus began a year of daily nagging from my dear friend. If I didn't send her a couple of pages, she would email me a little "nudge." I eked it out section by section, and I finally pronounced it "done" and printed up 300 pages on 8 ½ X 11 paper, three hole punched it, and put it in a big notebook. I had completed my book.
Big surprise! People don't really want to read a two-pound, three hole punched notebook full of unedited writing. About that time, I received a Christmas letter from a woman I had met while travelling in Turkey a few years back. One of the big life changes that she wrote of was her transition from magazine editor to fiction editor during the last year. I promptly wrote her back and asked if she could tackle the challenge of editing my book. Thankfully she did, and she transformed it from a rough-hewn jumble of words into a viable novel.
I had several other details that needed my attention. Namely, I had no title, and little idea of what to do about the cover. I actually bounced about 20 different titles around, and some were truly awful ("The Return Journey," "Full Circle to Crown King," "Matt Remains.") It is funny in retrospect, but extremely frustrating at the time. Finally, one weekend we were crossing what locals call the "Magic Bridge" into Crown King and it hit me; that was my title. The aforementioned best friend drove up and took a lovely photo of "Magic Bridge", and I had my cover artwork taken care of.
Now I had something to work with, but how to make it "look" like a book? I have another friend that does product packaging for cosmetics and media pamphlets, and I have seen her learn a new software program overnight if a job requires it. How different is it to create a package for a book? She navigated the slippery slope of gutter margins, double spread, and outside bleeds, and was able to produce a finished product that actually looked like a real book!
So I printed up fifteen copies of my tome using a discount coupon, was delighted to finally have one of my finished products in hand, and set out to find a publisher. I looked at some of the Arizona-based publishers of the books that were selling in Crown King, and contacted two of them about my book. One publisher basically laughed at me, but the other agreed to meet with me. He shared his expertise, and gave me this pearl of wisdom: buy Dan Poynter's Self-Publishing Manual and follow the advice. So I did, and I gained invaluable guidance in all aspects of self-publishing my book. I set about purchasing an ISBN and barcode, finding a print shop in Arizona, and figured out how to polish it into a finished product.
There was a fair share of frustration and tears along the way, but it was all worth it when I picked up my first order of books. The positive feedback that I have received from readers has been touching and wonderful, and the townspeople of Crown King are delighted to see our lovely little town described so vividly. I have made new friends throughout the world because of a link I made with a small town in Italy that was destroyed in a flood (Vernazza, Italy is one of the settings in the book). I have been invited to speak at a number of book clubs, women's groups, and grief and bereavement meetings. All in all, a combination of sheer willpower, good luck, and talented friends made this a reality for me. And maybe a dash of kismet!
 *     *     *     *     *
Thomasina Burke is a native Phoenician who loves just about everything in Arizona. She and her husband Bill reside in Phoenix, but every weekend they head up the dirt road to their cabin in Crown King, Arizona. A Registered Nurse and Volunteer Firefighter, she can also be found hiking any of the Phoenix mountains, Irish dancing, or planning a new travel adventure. Magic Bridge is her first novel. Visit her website and find her on Facebook.
[subscribe2]