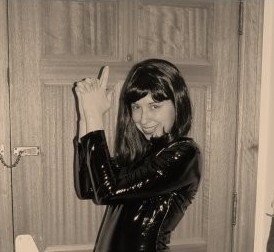 In my travels in the last year as an indie writer, I've learned a thing or two about selling my books. I've also learned what not to do. What to do and what not to do are what you always hear bloggers and writers screaming from the rooftops. It's mostly people getting their panties in a bunch about spamming and establishing your brand. After a while, it makes your ears bleed, you hear it so many times. Spamming I get. It's annoying. People don't like to have their nose rubbed in your book. But branding? It just sounds painful and unnecessary to me. Like professional wrestling. Or dating Donald Trump.
No matter how many times I hear it, building a brand sounds more and more like a race car driver, plastering Pepsi and Conoco stickers all over his car and his person. This is what I think of when people talk about brands. Like writers are walking around with stickers all over their nobbly sweaters reading Paranormal Romance and Rock and Roll Horror Fiction and Zombie Erotica. Which makes me think that maybe the so-called gurus that tell us what do do may not have it right. What if these people telling you what to do are (gasp!) wrong? That would mean, of course, that I'm probably wrong, but if you're familiar with my brand, that might not surprise you.
Maybe, just maybe, we should worry less about the brand and more about the writing.
Go onto any ebook list on Amazon, and you'll find a lot of crap. Consumers don't know what they want. They just see the shiny book with the pretty girl making out with the werewolf and they buy it because it looks pretty, or interesting, or the description sounds different than the other books they've been reading. Then, if they like it, they buy something that looks exactly the same. Maybe as writers our responsibility isn't to build our brand. Maybe our responsibility is to write something wonderful, something lasting. Something that spends less than 75% of the book having sex with fairies. Maybe our brand could be good writing. People would buy that, right? Damn right. Put a shiny cover on that bad boy, a sparkling synopsis, and people will buy it.
I propose a phenomenon. Stop building your brand. What are you a billboard? Just stop. Right now. Go to your computer and write something meaningful. Stop trying to figure out what's going to sell and just write. And when you're done, write something better. There's your brand right there. Literature, remember that? Good luck. By the looks of things, we're going to need it.
 ___________________________________
J.L. Murray is an indie writer through her own publishing company, Hellzapoppin Press. She is the author of Between the Devil and the Deep Blue Sea, and the upcoming The Devil Is a Gentleman, as well as many short stories that no one will ever, ever find. You can catch up to her at her foul-mouthed blog http://JLMurrayWrites.blogspot.com, or check out her fan page JL Murray on Facebook. She uses Twitter under the handle of @jlmurraywriter.
[subscribe2]