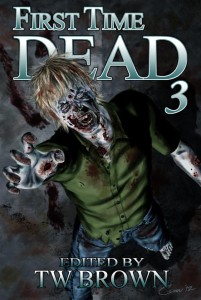 Indies Unlimited staff writer David Antrobus is happy to announce that his short story "Unquiet Slumbers" has been accepted for inclusion in the May December Publications new horror anthology First Time Dead, Volume 3. The book is now available for Kindle on Amazon.com.
David has written numerous short stories which loosely belong to the horror/dark fiction genre, but this is his first published zombie story. It is the post-apocalyptic tale of a suburban soccer mom who gets the virus and, while featuring the familiar gut-churning tropes required by fans of zombie fiction, the slow disintegration of her world is surprisingly lyrical and poignant, yet still gory.
For more information on David Antrobus, visit his blog or the Indies Unlimited staff bio page.
[subscribe2]