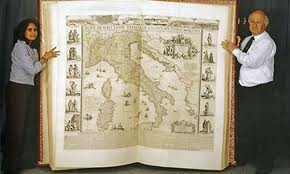 I've often wondered how people know in advance how long they want their novels to be. I see occasional posts on Facebook that read something like, "Only 10,074 more words till I reach the end of my WIP!!! SQUEE!!!"
How do people figure out in advance how long they want their books to be? My brain just does not work that way. Probably because some sort of math would be involved.
I've also read stories about a publisher sending a manuscript back to an author with a note directing the author to add 15,000 words. I can only suppose this is how we end up with books that contain long passages in which the author describes in exquisite detail the flocking on the wallpaper in a room. In the same position, I might be tempted to add "All work and no play makes Jack a dull boy" 1500 times.
I have read some books wherein it seemed rather obvious to me the author was padding the word count. I wish they would set those passages apart in some way—maybe make the text red, or include a note from the author that reads, "The next several pages are pure crap the publisher wanted me to add to get the page count up so they could charge more for the book. You can skip it if you want. Nothing of import happens, I promise."
Is word count something consumers care about? I have to believe it is. The problem is that they think different things about it. Some people don't even want to start a 700 page epic, no matter how well it is written. Some people will heft up a small book and come to the opposite conclusion, that if there isn't all that many words, it must not be very interesting, and go spend their ninety-nine cents elsewhere.
Yet, while quantity and quality are not mutually exclusive, neither are they always companions. I can hardly think it would be of much help to make a bad story longer. It reminds me of the old joke:
Cavalry Captain: "Men, I have some good news and some bad news. The good news is that we're trapped here and there is nothing left to eat but horse crap."
Soldier: "What the hell is the bad news?"
Cavalry Captain: "There's plenty of it."
I see the author's job as being one of telling a good story from the beginning to the end. That may take 40,000 words, or it may take 150,000 words. Torturing a story to meet a word count seems inherently wrong to me. What are your thoughts?
*     *     *     *     *
Stephen Hise is an author and the Founder and Evil Mastermind of Indies Unlimited. For more information, please see the IU Bio page and his website: http://stephenhise.com/