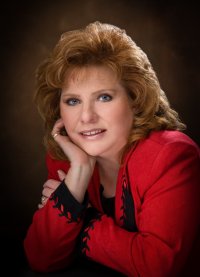 [This is a golden oldie—it ran on Indies Unlimited back in October 2011.]
After I sold my books, "The Saucy Lucy Murders" and "Paws-itively Guilty," I wrote a third book in the lighthearted murder-mystery series titled, "A Killer Slice." The publisher decided to pass on it, so I wound up with an unpublished manuscript and plenty of readers asking for more installments. For months I queried traditional publishers and agents to see if I could get anyone interested in working with me, but they all turned me down. Some politely; some not so politely, but that's the way it goes. This is a time-worn scenario—there are lots of writers in the world who can tell the same story.
Sorry to say, I moped for a while. Friends and family put up with my awful moods. Shame on me for whining, but I couldn't help myself. After much soul-searching, I decided to self-publish "A Killer Slice." At some point in time, I think all writers consider self-publishing, and I'm no different. Since I already had an audience, I hoped that would increase my chances for success. I didn't jump into it overnight, however. I took a couple of years to consider many different options including iUniverse and Lulu. I talked with people who'd done it already, read blogs about indie publishing and absorbed as much as I could. I wanted to make certain that before I plopped down hard-earned dollars, I'd found a legitimate publishing house. I wanted to feel confident they would produce the best book and provide the widest distribution.
There's a gold mine of advice from people on how to self-publish and where to do it. At the end of the day, each indie author needs to go where they personally feel most comfortable. I chose Amazon's Create Space because Amazon is huge, I already do a fair amount of business with the site (personally and for work) and I think it's here to stay for quite a while.
It's easy to set up your author's account, especially if you're familiar with computers and the Internet. Once you sign into your account, you can access a dashboard area that describes your book project in an understandable and informative manner. On the dashboard, authors can also receive messages from the publishing team and check on the status of their work in progress. Later, authors can go there to check on royalties. If something is confusing, authors can call friendly representatives for explanations. Since authors are customers, people are very willing to help.
There are several different plans to choose from, and I purchased one I felt would work best for me. When the book is finished, readers will not only be able to purchase a print copy, but also a Kindle version. I paid extra for editing, but I felt strongly it was necessary in order to turn out a quality project. Since I work in an office that publishes various types of handbooks and other items, I realize no matter how many times you proof your own work, you can easily miss typos. For example, in one of my traditionally published books, I intended to type the word "pantry" but it came out "panty." Spell check couldn't help me with that, and my eyes missed it. Thankfully my editor caught it before the book was published and I made a laughingstock of myself.
I hope my business venture pays off and that my investment is worthwhile. I've been through most of the creation stages and the book is nearly ready. I'd like to pat myself on the back and say "All's well that ends well," but honestly, I've only just begun. There is still the promotion and marketing, which are huge. I don't know the best way to do that, but that's okay. I'll simply do everything I can and remain optimistic.
While I'm self-publishing for personal and professional reasons, I'm also doing it for my readers. I had created a world so many people didn't want to let go of, and frankly, I wasn't ready to let go of it either.
They say you make your own luck. So gosh darn it, I'm going to give it a shot.
Cindy Keen Reynders is the author of Author of The Saucy Lucy Murders (Medallion Press, 2007) Paws-itively Guilty (Medallion Press, 2008) and two upcoming titles, A Killer Slice (Amazon, 2011) and The Seven-Year Witch (Angelic Knight Press, 2012) Learn more about Cindy and her books at her website and on Amazon.com.