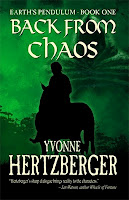 Back From Chaos; Book One of Earth's Pendulum
by Yvonne Hertzberger
Genre: Epic Fantasy
112,000 words
Gaelen, with Lordship unexpectedly thrust upon him, weds Marja, daughter of the enemy, to complete his victory over Catania. A trusted advisor turned traitor seeks to murder Marja, perhaps even Gaelen.
Klast, loner, perfect spy and assassin, orphaned by murder, brutalized by his sadistic captor, appears incapable of feeling. Yet it is he who must rescue Brensa, Marja's maid, captured by brigands. But before he can complete the path Earth has set for him, Klast must help Lord Gaelen to apprehend and bring to justice the traitor who threatens them all.
All of them must survive the Red Fever, a symptom of Earth's imbalance and pain, which ravages the population.
Earth shows Liethis, her true seer, that the bond between Klast and Brensa must not be severed. Earth's healing, the future of the people, even the birth of the heir Marja bears, depend on it. But even Liethis is not shown just what Earth has in store for Klast and Brensa. There is no time to waste!
This title is available from Amazon US, Amazon UK, Smashwords, and Barnes & Noble.
Yvonne, how did you come up with the title for your book? Does it have any special meaning?
The title was likely the hardest part of writing this. I wanted to suggest the underlying theme of how events in history take us from chaos to balance and back again in an ongoing cycle, hence 'Earth's Pendulum'. This first volume starts in Chaos and ends in relative balance so I called it 'Back From Chaos'.
Who was your favorite character and why?
Klast is far and away my favourite. He is the most complex, a loner, assassin and spy. He has many issues to deal with but manages to retain his integrity and rise above his troubled past.
Does your book have any underlying theme, message, or moral?
The entire trilogy deals with the interdependence of our environment (depicted as the goddess Earth) and humanity. What we do affects the future of the whole world. But that is subtle shown through events (such as war) and consequences (such as plague) for the characters and their world.
What would/could a reader or reviewer say about your writing that shows they "get" you as an author?
That they feel they are 'with' my characters in the world I have created and care about them. That they couldn't put the book down and can't wait for the next one.
Give us an excerpted quote from your favorite review of this book:
"I was fascinated by Klast – he was my favourite character. He was multi-layered, an enigma, and Yvonne gave him strength of character, tenderness, decency, and loyalty."
Where can people learn more about your writing?
http://yvonnehertzberger.com