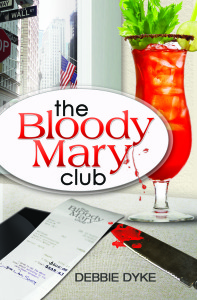 The Bloody Mary Club
by Debbie Dyke
Genre: Fiscal thriller
394 pages
An all women investment club meets in historic Old Town, Alexandria, in the shadow of the U.S. Capitol. The friends, caught up in a ruthless bank takeover, uncover accounting fraud and trading irregularities.
When the tight circle faces off against greedy executives sitting on millions of dollars worth of stock options their financial security blanket is ripped away. The ladies become the target of a predatory national bank. As the intrigue and violence escalates so does the vodka in their namesake drink, Bloody Marys.
This title is available from Amazon in print or Kindle format and Barnes and Noble.
Debbie, how did you come up with the title for your book? Does it have any special meaning?
YES! The Bloody Mary Club, isn't just about the four ladies drinking made-to-order Bloody Marys – the "Bloody Mary' originated at Gadby's Tavern during the colonial times in Alexandria VA when a slab of bloody ice was delivered and all toasted , "to bloody, bloody Mary!"

Who was your favorite character and why?
Meet Gina Van Story, Mistress of the stock market. Polished spice.  Born with a look that lets her get away with anything. A savvy stockbroker, she's on the hunt for one final big score. Aching for the top 1% salary bracket she'll do anything to get there. She wants all the toys. Gina's love of money-take a toll. She needs to look beyond the closing bell of NYSE.

Does your book have any underlying theme, message, or moral?
Ponzi schemes. Bank meltdown. Insider trading. This money business is a blood sport and only the strongest survive. I explore the investment world and how it relates to us on personal level. What happens to friendship when the well-heeled rub elbows with the not so fortunate? Everything in life has a price tag on it.
What would/could a reader or reviewer say about your writing that shows they "get" you as an author?
I have a fresh, funny, engaging, and new voice. I have a wicked sense of humor, like strong female characters, that I'm not a boring writer. They will feel the joy that I have when writing about stocks/bonds/trading.
Give us an excerpted quote from your favorite review of this book:
"It's very rare that I can't put a book down, but this one just pulled me in. Love love love this book and highly recommend it…"
Where can people learn more about your writing?
www.DebbieDyke.com