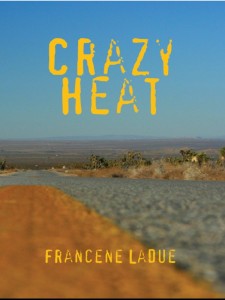 Crazy Heat
by Francene LaDue
Genre: Crime
77,846 words
After twenty years of covert rescues, retired Air Force Special Ops vet, Bobby Egan is struggling to find his place in civilian life. Egan has spent the last two years working a dead-end job at the 24 Hour MiniMart in Tucson, but all that's about to change thanks to friends and acquaintances, presenting some strange opportunities. It isn't long before Bobby realizes he's entangled in a dangerous triangle of romance, friendship and business. Everybody's got an agenda they aren't sharing with Bobby and the only way out is to trust his instincts and experience even if it means breaking the law and using deadly force to stay alive.
This title is available from Amazon US, Amazon UK, Smashwords and Barnes and Noble.
Francine, how did you come up with the title for your book? Does it have any special meaning?
Tucson in August it brutal, so when the thermostat is up over 100 degrees, all civility heads out the window. If you're not crazy, that kind of heat can make you crazy. And if you are crazy, it's just going to push you over the edge. Welcome to Crazy Heat.
Who was your favorite character and why?
My empathy goes to Bobby Egan, but I had so much fun writing Dotty, Lynette, Raymond, Albert and Jorge. Such bad behavior and so selfish, mind you I wouldn't open my front door to any of them. They are damaged through and through.
Does your book have any underlying theme, message, or moral?
Initially the question I asked myself, and what I wanted readers to decide, was that if good people did something bad, could they still be likeable? My goal was to elicit a "yes" from the readers, but after I finished, my own answer was "no". Redemption was delivered, but not as expected.
What would/could a reader or reviewer say about your writing that shows they "get" you as an author?
Francene writes with a keen, observant style, full of sharp provocative dialogue and dark, wry wit that does not shy from the disturbing underbelly of human desire and need. She engages the reader with complex characters and intertwining storylines converging in a fast-paced novel that absorbs, shocks and entertains.
Give us an excerpted quote from your favorite review of this book:
"…she could careen so wildly and deliciously into Jim Thompson territory and make it her own, but own it she does. Francene's "Crazy Heat" is a striking debut en noir brimming with mordant humor and sharp observations …"
Where can people learn more about your writing? 
http://www.franceneladue.com/