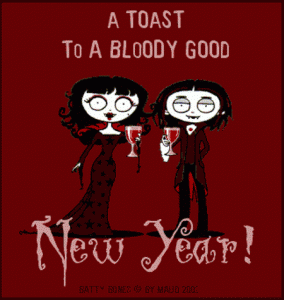 I like New Year's resolutions and setting goals. On New Year's Day, while my husband and I recover from the previous night's festivities, we watch football and I open the new desk calendar. It has become my tradition to sit with this calendar and copy, from the old one, the birthdays and other important events I will need to remember during the brand new year. I enjoy looking at some of the interesting things that I did during the past year. Then, I close the calendar and put it on the shelf with all the others I have saved. I am sentimental and not a little superstitious. Those who know and love me have used the appellation "hoarder", affectionately.
Perhaps this is why I have gravitated to Pinterest. The collecting aspect of Pinterest interested me, a woman who has a climate controlled storage closet for thirty plus year's worth of holiday decorations. (We found out quickly that in Florida one does not store blown glass ornaments in the attic. The paint melts.) The ability to store things, and not need more closet space appealed to the collector in me. As I developed my boards and became familiar with the site, however, I realized that Pinterest has the potential to be so much more.
Along with the new calendar I will, for the first time as an Indie author, be writing a formal marketing plan for 2013. I wrote these for years when I was in telecommunication sales. The big difference is that whatever ends up on the plan will have to be largely accomplished by—me. I don't have a team of sales engineers or designers to help me realize my goals. There will be a few carefully chosen support people involved, but my marketing and promoting is almost entirely up to me. This is both scary and exciting.
Kat Brooks recently wrote a post about the basic social media platforms all writers should be on and you can read that post. I would like to add one to this list, and it is, no surprise, Pinterest. There are several posts here on IU about Pinterest, and I would suggest that you read them for details that I will not review in this post.
With regard to marketing on social media, I'm not sure that when an e-book sells we can definitively point to one place and say, "Eureka! I have found the key to advertising success!" This is why it is important to have a presence in a number of social media areas and to not advertise or promote in the same place all the time. What I like about Pinterest is that it allows you to show who you are to an unknown group of potential readers. It is a completely different network. It is not the writers you have known for many years, but a potentially important key to a more well-rounded social media presence. Please note the word potential. I have no definitive proof of beautifully curated, imaginative boards translating into sales. But, I will tell you about an experiment I ran on Pinterest.
If you look at my Pinterest profile you will see a board called, "Vampire Cocktail." I created this board many months ago in anticipation of my new novel, "My Gentleman Vampire: The Undead Have Style." My vamps drink fabulous cocktails and tango. I did not build this board in a day, a week, or even a month. It is a work in progress, as are the rest of the boards. Other than a brief update on my facebook page, I had not formally announced the book. I did, however, pin it on Pinterest with a brief statement that it was published. In 24 hours I sold ten copies. Some of the sales appear to be from a new group of readers, which I can tell by the "those who purchased this also bought" information on Amazon.
Before you rush to Pinterest to hastily throw together some boards, please consider this. These boards represent you, your interests, your hobbies, sense of humor, or maybe even your deeply held beliefs. Do not copy more than 5 or so pins from another pinner's board in one visit. Do not copy a clever name of a board—make up your own. Show your individuality. Do check out my profile, follow me if you like, and watch how I pin. My board names are; Orchid Obsession, All Things Red, Black and White, Art Deco, Art Nouveau, Let Them Eat Cake, My Style, Holy Handbag, Sublime Shoes, Tango With Me, and A Stylish Man's Closet, to name a few.
Caveat: I really enjoy this sort of marketing. This is not everyone's cup of tea. Many people will see it as a waste of time, but I beg to differ. It is exactly the things that make you interesting in a non-threatening, laid back way that sell your product. People buy from people they like, or at least from those they find fascinating. Are you interesting? Then, go to Pinterest and let your readers see why. Cheers!