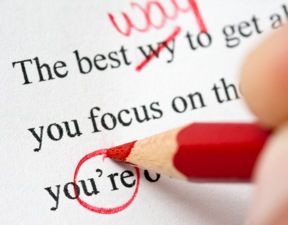 It was a typical morning at the IU Staff cantina. Chris James and Cathy Speight were making a pot of coffee. L.A. Lewandowski and Carol Wyer practiced some yoga asanas in the corner. Yvonne Hertzberger and Carolyn Steele were testing a new recipe for lime Jell-O. I started reflecting on the amazing depth of experience our members bring to this blog. They write, they edit, they inspire, and some of them are so talented, Rich Meyer wants to set them out on the nearest street corner with a tin cup so we can make a few extra bucks. I wished I knew so many dedicated professionals when I was just starting out. So I asked our illustrious contributors what advice they would give a beginning or aspiring author, and here are some of the cleaner things they said:
"Join a critique group and/or writer's group. Have several people read your manuscript for input. And no, your mother/brother/sister/dog doesn't count." -D.V. Berkom
"A great story with great writing is no longer great if there is a typo or grammar error every other page. Too many authors get close to the finish line and rush to publish before making sure their book has that last bit of polish. If you can't afford to hire a professional to copyedit and proof your book find friends, whether other authors or readers, with a decent command of the language to read your book looking for these errors. Keep sending it out until no one is finding issues. No matter how good you think you are, you aren't capable of doing this yourself." – Big Al
"Write, seek input, revise, repeat. This will, over time, build your confidence and help you learn not just the craft of writing, but the art of handling constructive criticism." – Laurie Boris
"Reach out. There's no reason to do it alone anymore. The Internet opens up a whole world of resources (including Indies Unlimited!) to beginners as well as authors of all levels. If you've never done something before, don't assume you know how. Ask. If you're proven right, then you can feel even better about what you're doing. But if you're wrong, you've just saved yourself a lot of embarrassment and actions you can't take back." – K.S. Brooks
"Read. A lot. But don't just read inside your comfort zone — pick up a book in another genre occasionally, if only to see what other writers are doing." – Lynne Cantwell
"Learn everything you can about self-publishing and listen to all the advice that's given to you BUT at the end of the day, if the little voice inside your head is sending you in a different direction, listen to it and follow it, because nobody knows your story and how to connect to your readers like you do." – Martin Crosbie
"Write every day. Whether it's 200 words or 2,000 words. Create the habit of writing every day. Write down your goals for number of words per day, and a date for completing the first draft, etc. (and make sure there is a 'first' draft)" – Jim Devitt
"Two subjects here: writing and publishing: With writing: Do the best you can to get all of the correct words in the correct order, and spell them all correctly, too. This is harder than it sounds, so you may want to consider taking English lessons first. With publishing: read everything can about the industry with the most cynical eye you have. Only trust and use sources and sites that do not charge you anything for the information they provide. If you have to pay money upfront, close the page and never go back." – Chris James
"Don't be afraid to be the new kid on the block. Pay attention and respect the more seasoned writers around you, but when you are ready to jump into the fire just remember to wear fire-retardant pajamas." – L.A. Lewandowski
"Edit, mercilessly, and then give your work to an editor who understands what you are trying to write and who will edit your work meticulously." -T.D. McKinnon
"Run the other way if you see PublishAmerica or Author Solutions involved in any of your dealings. Don't let a publisher turn you into a starving artist." – Rich Meyer
"Take the time to study the craft of writing. There are so many amazing books and resources out there. If you want to produce something worth reading, then learn how to make it excellent." – Melissa Pearl
"Don't expect your first book to be a best-seller. If it is, be pleasantly surprised." – Kathy Rowe
"Read, write, repeat." – K.D. Rush
"Edit, edit, edit." – Cathy Speight
"Ask specific questions of your betas, editors, critique group etc. Do you like it? gets you nowhere…ask things like, Which characters need more work? Which bits fall flat just now? What would you leave out or rewrite? That way you give permission to be constructive and ensure that nobody worries about upsetting you with the truth." – Carolyn Steele
"Don't be disheartened by your first draft being 'rubbish' – it's called a first draft for a reason. Although some things you write may be immediately good, most will need honing. You will need to persevere throughout your writing career, whether that is because you'll have to rewrite stories or because you have to face criticism, or even because you have to keep marketing. Be brave. It'll be worth it." – Carol E. Wyer
And the last word goes to our founder, co-administrator, and Death Star pilot…
"I think the best thing an aspiring writer can do is to connect with the community of writers through a platform designed to enhance writing skills and illuminate the issues and challenges of writing today. Someplace like Indies Unlimited. Except there is no other place like Indies Unlimited, so they should come here." – Stephen Hise
Want to know more about our staff? Check out their bios here.