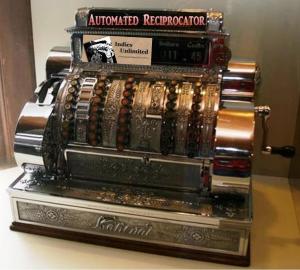 How many times a day do people ask you for advice on how to write or publish or market a book? It can get frustrating and become a time-suck. Can you imagine if you were a doctor, a lawyer, an accountant, or a mechanic? You'd never be giving your time away for free, would you?
Well, here at the Indies Unlimited Laboratories, we've come up with the perfect invention for you: the amazing Automated Reciprocator!
This machine is so brilliant, so intuitive, and so easy to use, you'll wish we invented it years ago – but only after you got published, right?
The directions for use are simple. Before you put it into service, however, you need to make a list of the things you need, or the things you're willing to barter for. The Automated Reciprocator can't help you get your due until you perform this initial step. Not sure what you need/want? Here's a list of most commonly requested items:
Laser liposuction
Dental bleaching
Will preparation
Tax preparation
Tire rotation
Aura reading
Once you've got your list ready, plug the handy USB cable (sold separately) into your laptop, computer, or smart phone, whichever you prefer, and upload your list into the AR. Or, you can type your list directly into the AR using its stylish keyboard. Don't forget to enter your desired hourly rate as well. Next, select the amount of time you want to give away for free. Now you're ready.
Let's say the friend of a friend of a friend's hair stylist calls you on the phone, looking for advice. Just ask her to hold for a moment, plug your AR into your phone and crank the handle. Using patent pending technology, the AR will recognize words used during your discussion and take over the conversation at the time limit you've preset. Even if you or your caller is in mid-sentence, the AR will kick in.
"I'm sorry, your fifteen minute no-charge consultation has expired. If you would like to continue this consultation, please select your method of payment now. For Mastercard, Visa, or American Express, please press one. For PayPal, please press two. To barter for a free haircut, mani or pedi, please press three." It's THAT easy!
If someone is texting you on your phone or messaging you on Facebook or via another social media platform, no worries. We've got an app for that! Once you reach your time limit, a pop-up window will appear on the screen that belongs to the person picking your brain, informing them of the payment options. Great, right?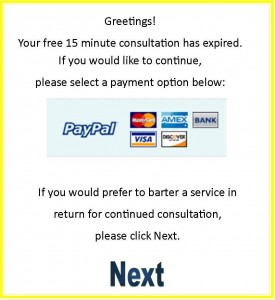 And don't worry, the AR won't let you overstep your limit even in email. Just make sure you're AR is plugged into your computer, and it'll automatically sense when you're typing an advice-laden email that's approaching your time limit! Once you're there, the same screen that saved you in messaging will insert itself into your email. The AR will even lock your keyboard in case you're considering being a pushover! You will still be able to use your mouse, navigate to the send button, and click on it. It's amazing how the AR can save you from yourself, right?
How much would you pay for a fantastic tool like this? Well, don't answer yet! If you call before midnight tonight, you'll get a special discount as an Indies Unlimited subscriber! Just use the special sale code HELPMEIU and not only will you get a super duper special price, we'll throw in a mini AR that you can take with you everywhere! (Just pay separate shipping and handling.)
So, tired of giving it away for free? Don't get angry, get the Automated Reciprocator!