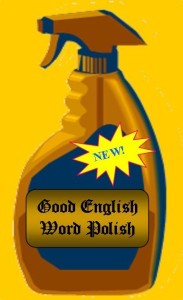 [Indies Unlimited is brought to you in part by the fine people at Good English, a division of Imelda's Offshore Holdings and Shoe Equity Fund.]
Authors, is your manuscript dull and lackluster? Are your characters flat and lifeless? Are you plagued by embarrassing typos and malapropisms?
Professional editing can be costly and time-consuming. What's an author to do?
Thank goodness for Good English Word Polish! Just spray some on your manuscript and watch your prose glisten.
Good English removes unwanted adverbs, strips away verb-tense conflict, aligns backstory, corrects unseemly timeline errors, and eliminates repetitive phrases.
Best of all, Good English Word Polish is non-toxic and typo-allergenic. Try some today! You'll be glad you did.