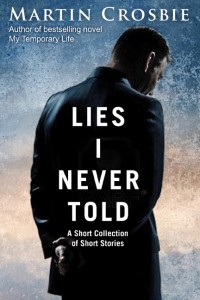 Lies I Never Told
by Martin Crosbie
Genre: Literary Fiction/Short Stories
Word count: 19,000 words
"It's what we do. We make our own beds. We become thirty and then forty and we divorce and re-marry and visit our children on weekends, and work at jobs we never dreamed of doing, and have too many relationships with people we don't like, and on the outside we look like any other forty-year-old hero. We're not though, because it never goes away. No matter how hard we try to hide it, inside we're still seventeen, sitting at the river, looking for the girl with the brown eyes."
In this collection of short stories, Martin Crosbie, the bestselling author of My Temporary Life, presents us with a glimpse into the rear-view mirror of life. Crosbie's writing is quiet, so quiet that when the crash comes you suddenly realize you've been gripping onto the edge of your chair, living the story right along with the main character. In this intensely personal collection, he writes about relationships, sex, children, infidelities, guilt, and sometimes, the absence of guilt.
Lies I Never Told includes four new, original stories, one previously published short story, and the first chapters of his Amazon bestselling novel "My Temporary Life" and the follow-up "My Name Is Hardly".
This book is available on Amazon.
Martin, how did you come up with the title for your book? Does it have any special meaning?
Originally I'd intended to use "Lies I Never Told" as the title of my auto-biography once I'd become incredibly well-known, but that's taking way too long to happen, so I used it for this book.
Who was your favorite character and why?
William, just William, is the protagonist from Absence of Guilt, one of the stories in the collection. He talks about doing "what's right and what's wrong and sometimes falling somewhere in between". I could identify with that.
Does your book have any underlying theme, message, or moral?
Yes, it does, but I'd rather the reader discover that for themselves. Then, if they find a brilliant, underlying message I can nod knowingly at the brilliance that I didn't even realize I had.
What would/could a reader or reviewer say about this book that shows they "get" you as an author?
A recent reviewer made this comment, "Crosbie has a way of writing that makes you feel like he is just having a conversation with his readers, very personal". That's what I'm striving for and I want it to happen from the very first sentence.

Give us an excerpted quote from your favorite review of this book:
Where Martin Crosbie found his voice is a mystery. His ability to create stories that…he seems to be sitting beside you, in conversation with only you.
Where can people learn more about your writing?
http://martincrosbie.com/the-perfect-self-publishing-workshop/