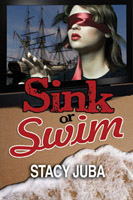 Sink or Swim
by Stacy Juba
Genre: Mystery
Word count:60,000
A fun beach read endorsed by contestants from Survivor, Big Brother, and The Amazing Race. Ambitious personal trainer Cassidy Novak has gained fame for starring on Sink or Swim, a hit reality show. Not only does she lose and have to walk the plank, but after the game show ends, the terror begins. Upon returning home, Cassidy discovers she has attracted a stalker masterminding his own twisted game. She struggles to focus on her health club job and celebrity endorsement opportunities, but her stalker has other plans. As her former competitors get knocked off one-by-one, Cassidy refuses to play by the stalker's bizarre rules. She's also being shadowed by hunky photographer Zach Gallagher, who has been assigned to capture her personal moments for a spread in the local newspaper. She wants to trust Zach, but fears he may not be what he seems. When the stalker forces a showdown, Cassidy must once again walk the plank…this time for her life.
This book is available from Amazon, Smashwords, and Barnes & Noble.
Stacy, how did you come up with the title for your book? Does it have any special meaning?
Sink or Swim is the name of the fictional reality show, which is set aboard a ship. As the book title, it has symbolic meaning: Cassidy must face down her stalker and take personal risks relating to romance and career. There comes a time when you've got to sink or swim.
Who was your favorite character and why?
Cassidy is my favorite as she is sassy, ambitious and independent yet has a hidden vulnerability. I like how loyal she is to her family, especially her teenage brother Bo. I liked writing the scenes with Zach, the easygoing cowboy she romances, as he is her complete opposite.
Does your book have any underlying theme, message, or moral?
One theme is about venturing out of your comfort zone and taking risks. You never know how something will turn out unless you go for it. There is also a theme about trusting others. Although it's important to be independent, you can often have better results with a team approach.
What would/could a reader or reviewer say about this book that shows they "get" you as an author?
They would say that they liked how Cassidy is flawed and not a perfect character. She can act impulsive and she makes mistakes, as we all do. They would also say that it's a fun mystery to read regardless of whether you enjoy reality TV or hate it!
Give us an excerpted quote from your favorite review of this book:
I cannot find fault with this book at all, the writing is well-done, the characters interesting, and the mystery stimulating. An excellent book for a weekend or weeknight read!
Where can people learn more about your writing?
http://stacyjuba.com/blog/