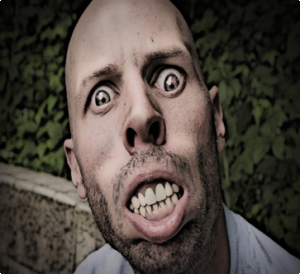 Have you been spending too much time on social media?
The real world can be disorienting and a little disappointing in comparison to the digital experience. Real people dislike it when you try to find and click their like buttons.
Too many hours online can result in cybertoxicity. Untreated, this disorder can leave victims detached from reality. Here is a checklist of seven questions to help determine whether you are at risk:
When you are in the real world:
1. Do you find it annoying that you don't hear a little incoming message tone telling you when someone is about to speak?
2. When selecting items on a grocery store shelf, do you ever become slightly disoriented because you can't see your cursor arrow?
3. Have you ever experienced a feeling of emptiness at the absence of funny pictures of cats?
4. Have you ever tried to get out of a traffic ticket by telling the officer your Klout score?
5. If someone cuts you off in traffic, do you reflexively look at the instrument panel of your car for a way to vote that down?
6. When you meet someone to whom you are attracted, do your deepest fantasies about them only involve video chatting?
7. Have you ever switched doctors/lawyers/accountants/dentists because you didn't find their Google ranking very impressive?
If you answered yes to any of these questions, you may be at risk for cybertoxicity. The Indies Unlimited Cybertoxicity Online Research Program could be your only hope. We suggest you make a donation today. It's that PayPal button at the top of the right sidebar up there.
This announcement is provided as a public service of the Indies Unlimited Broadcasting System. In the event of an actual emergency, your power would be out, so it really wouldn't matter.