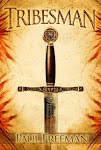 A warrior of the Northern Clans seeks a path home. Tormented by his god, a warrior and champion sets forth on a journey north in search of a merchant's daughter abducted by Clansmen. With a desert princess as a companion he will travel through a land baked by a scorching sun, where bandits roam and dark beasts stalk the night.
An ancient evil is rising from the desert. Culainn and Persha, warrior and mage stand alone against a tide of darkness. All the while, Morrigu, the dark god of the north seeks to use Culainn as her own tool.
Tribesman, the epic fantasy novel by Paul Freeman, is available from Amazon US and Amazon UK.
Don't forget, you can cast your vote for trailer of the month on September 28, 2013 at 5 p.m. Pacific time.