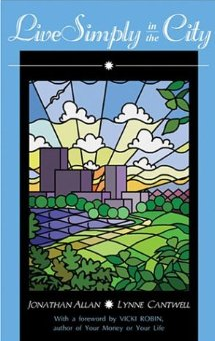 Many years ago, I co-authored a nonfiction book on simple living in urban areas. You can still find used copies on Amazon (but I am here to tell you that it's not worth what the scalpers — sorry, the fine purveyors of gently-used books — are trying to sell it for).
Over the years since writing that book, I've gotten away from the practice of living simply. But it occurred to me recently that it could be a viable route for indies who want to be career writers – that is, they'd love to be able to live off of their writing income. Of course, a lot of people who write for a living already have this down pat, whether by necessity or by design. But on the off-chance this is a foreign notion to some folks, I thought it was worth talking about.
The concept is (forgive me) simple. You figure out, by trial and error, what the phrase "having enough" means to you: enough time in the day; enough stuff to maintain and not one thing more; and so on. It's a process of streamlining your life so that it only contains the people, things, and activities that satisfy you. So don't worry – nobody's going to make you live off the grid in a tent. (Unless that's what makes you happy. And if it does, hey, don't let me stop you.)
Once you've got your life to that "enough" point, you can very easily figure out how much money it will take for you to maintain that lifestyle. Chances are that it will be less than you're making from the day job. If so, congratulations! You'll be able to quit and write for a living that much sooner.
I think – and you might be surprised to learn this – a lot of us are already partway to the simple-living mindset. For one thing, we share a passion for an inexpensive activity: writing. For another, we've probably already chosen to forego any number of pricey hobbies and other obsessions because we are saving our free time to write, blog, market our work, and so on. Also, many of us have learned how to do a lot of publishing-related things ourselves, because it's cheaper and more fun than hiring them out; that kind of do-it-yourself spirit is one hallmark of living simply. And too, the people who know we're writers already think we're either weird or misguided or both, so adding another quirk to your personality probably won't change anything; the looks friends and family give you are probably as weird as they're going to get.
If you're interested in learning more about simple living, a number of books explain it better than the one I co-wrote – and they have the added virtue of still being in print. The granddaddy is Your Money or Your Life by Joe Dominguez and Vicki Robin. I'd recommend getting the most recent edition, as the earlier editions include outdated investment advice (i.e., Joe's original passive-income system was based on laddering 30-year Treasury bonds, which the Fed doesn't sell any more).
I think most of us have figured out by now that the likelihood of making a Hugh-Howey-level income as an indie is pretty slim. But you might be able to cut your living expenses to the point where you can afford to live off your earnings as a writer, and still have a lifestyle that's fulfilling for you. Something to think about, anyway. I know I'm taking another look at it.