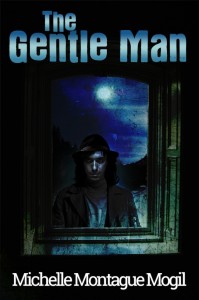 Today we have a sneak peek from Michelle Montague Mogil's paranormal romance novel, The Gentle Man.
Ana Trent was the first to admit it: she had crested the peak and was now in her downhill years. Middle-aged and worn out, she's resigned herself to a life of drudgery and angst as she watches her marriage, job, house and body slowly but surely fall apart. Enter a dark and compelling stranger who claims he's running for his life and begs for her help. Against all reason, Ana lets him in. Soon, she's questioning his sanity, her sanity, and reality itself. One thing's for certain: life will never be dull or ordinary again.
Available from Amazon US, Amazon UK, and Smashwords.
Here is an excerpt from The Gentle Man:
"Perhaps I am misunderstanding," he said after a moment. "I see in you a strong need, Anastasia." He looked at me, his head to one side. "Is there not such a need in you? You do not feel it?"
I took a seat beside him again, feeling shaky and deprived somehow. "Oh, my God yes. Yes there is. Quite a need." I licked my suddenly dry lips and became completely aware of how hot and damp that need felt. "Usually, I'll just, umm, take care of it. I've—" I ducked my head, embarrassed, "I've been known to stray once or twice." I raised my pleading eyes to his now. "Don't judge me. I do love my husband! But I have a strong, err, sex drive, and it's just that his drove off a few years ago. It's been so damned long since I felt what you just made me feel."
At this point, Domn's face was a picture of confusion "I am—" he halted, then tried again, "I do not understand. What is this sex drive?"
"You're kidding, right? Look," Raising my hands in supplication, I stood and began walking back toward the pub. "It's tempting, very tempting," I said over my shoulder, "but I should probably not risk it right now, that's all."
"Anastasia, do not leave." Domn slipped in front of me, and gazed earnestly into my eyes, his hands on my shoulders. "Please enlighten me. What is it you are telling me?"
"I was—um—I thought you wanted to have an affair," I fumbled. "A love affair." Oh Lord could this get any more awkward? My face flamed hot and glowed red. "What were you talking about?"
"Ohh." He went quiet for a long moment and I watched his face, sure I would see some sign of mockery or mirth. "I was thinking the same, of sorts." He flashed a grin then covered it with his hand. "I am sorry. I do not wish to make light of something with such importance to you." He sobered, straightening to his full height of maybe five-foot-six. "I am begging for your pardon, Anastasia. I, perhaps, ask of you too much and too quickly. I can wait—until such a time as you are ready."
God, his eyes are spellbinding—and those lips….
Feeling a twinge of regret, I almost weakened then hurriedly, purposefully, brushed past him, intent on finishing my closing duties. I flew through the routine and walked briskly to my truck, knowing he would follow. Once home, with Domn safely in his cellar lair, I trudged upstairs to the master bathroom to undress for bed, and found what looked to be dried blood on the shoulder of my once pristine white work blouse.
"What?" I turned, seeing the mirror reflecting a deep cut near my collarbone. "What the hell," I said out loud. "The bastard bit me!"
---