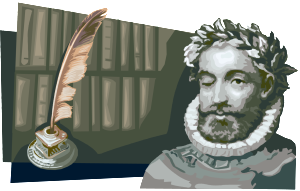 I learned some hard lessons in 2013, but hopefully I learned them well. One of the things I realized is: people really don't get what a writer's life is like. I'll expound on that in a moment. First, let me tell you what else I learned:
– Sometimes, the people you meet online will have your back when the people you've known all your life, or at least met in person, are the ones stabbing you there. Sometimes your true friends are really your virtual ones. I'm so very thankful for my online Indie Author family.
– Of course, that's not to say you should trust everyone you meet online. And sometimes the people you think you can trust turn out not to have your best interests at heart. There will always be cliques, and I will always be on the outside of them. But that's nothing new to a loner like me, really. Sometimes it is surprising (not to mention sad) to discover who's in the clique, though.
– People who respect you know that your time is worth something and they are willing to offer something in exchange for your expertise. Many authors I know need to learn this lesson.
Once you start valuing your time, the people who expect you to hold their hands will magically disappear. It's like you're sending out a beacon without even having to say anything. It was nice to be needed, but it wasn't nice to have the energy drained from me helping people when I tried to show them repeatedly how to help themselves.
– I learned that the TRUE meaning of Indie means not being afraid of doing it yourself. Being of the "trad" era, I truly believed that I HAD to have a cover artist and I HAD to have a formatter. I let those ideas cripple me. The logic that "I can't make a cover, I'm not trained to do that," was poison. Yes, a person should know his/her limitations, but I learned from my Indie friends that being an Indie meant "knowing my limitations, then kicking them in the nuts." And that's what I did.
And I am the better for learning all those things.
The most interesting thing I learned, however, is that I'm not normal. Well, I'm normal to me. But it isn't normal to normal people that someone would sit at a computer from 5:30 a.m. to 10:30 p.m. chewing crushed ice and working away on all things writing. I love my awesome French door refrigerator, but I have a feeling the ice machine hates me. Sure, I take breaks – to go to the bathroom, to eat dinner (so I don't get food in my keyboard), and… um, well… yeah. I take breaks. I used to take breaks to walk Mr. Pish, but… well, never mind.
All in all, I have no idea why this behavior is considered strange to people. Recently, an aspiring author asked me what it is I do all day. When I answered, he stared at me slack-jawed as if I had just told him the most warped, freakish thing he'd ever heard. That's when it hit me that people just really have no idea.
Perhaps I should have had a clue when friends back East emailed me with "All I ever see on your Facebook page is writing stuff. I want to hear about YOU." Huh? "How are YOU? What are you up to?" That's a joke, right? I write. I help run Indies Unlimited. I evaluate books from Indie Authors. I try to market my books. I try to get press. I coordinate free print books to damaged libraries, and free eBooks to soldiers and veterans. I coach less experienced authors. That doesn't leave much time for anything else. Sure, at around 8 pm on any given day, I'll "retire" (sounds so classy) to the couch WITH my laptop and watch true crime and forensics shows as research for my spy series. But I'm always still working while I'm doing that. Unless my brain is fried, in which case I ponder plot twists in projects forever percolating in my brain.
All of this brouhaha made me wonder: do I actually get anything done? Then I went back and counted how many titles I'd published in 2013: eight. I had no idea I'd generated that many.
I live, eat, sleep, and perspire writing. I am a writer. That is what I do. And I'm glad. I'm glad to have so much passion for something…and it actually makes me feel badly for people who don't. Sure, some friends don't get it, and they fade away into their own lives, disgusted with me. And so, maybe I'll end up with no friends, and maybe I'll die alone. Hey, Edgar Allan Poe died alone. At least I'll be in good company.