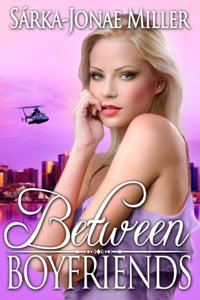 Between Boyfriends
by Sarka-Jonae Miller
Genre: Chick Lit/ New Adult
Word count: 104,000
At first glance, twenty-one-year-old Jan Weston has it all: a gorgeous boyfriend, fun friends, and wealthy parents who take care of all those pesky credit card bills.
Then her boyfriend dumps her, her friendships fall apart, and her parents cut her off. Suddenly without money, without a man, and without a plan, it's time for Jan to grow up.
Determined to get her life back on track, Jan decides it's time to make it on her own. Can she find her way as a single lady in San Diego? Can she fix her friendships, her job prospects, and her hair? And can she keep her vow that she'll never date again, even after she meets a guy who just might be perfect for her?
BETWEEN BOYFRIENDS is a sexy, hilarious story of living life, finding love, and growing up… but not necessarily in that order.
This book is available from Amazon and Barnes & Noble.
Sarka, how did you come up with the title for your book? Does it have any special meaning?
I always thought that saying one was "between jobs" was a funny way of downplaying being unemployed. "Between boyfriends" sounds a lot cooler than being single. It's a nod to the funny tone of the novel and the main character's singleton status.
Who was your favorite character and why?
Jan is my favorite character. She's deeply flawed, but works her butt off to grow and improve herself in a reasonable manner. I enjoy flawed characters, as long as they are in process to better themselves. Plus, Jan's hilarious. Her attitude cracks me up because I understand what's underneath it.
Does your book have any underlying theme, message, or moral?
Between Boyfriends is about finding your way before finding the One. A relationship won't bring happiness or fill the void caused by a lack of self-love or a support system. Jan has crappy parents, so she needs to learn to build friendships with women and men.
What would/could a reader or reviewer say about this book that shows they "get" you as an author?
Many reviewers have said that Between Boyfriends is both hilarious and inspirational. That proves that they got the message. Jan is a brat, but her growth process is believable and shows readers that people who are defensive and lonely can change, and grow, and become likable, if given the chance.
Give us an excerpted quote from your favorite review of this book:
"This book is the ultimate chick-lit read… focused on the travails of Jan, a college student dumped by her boyfriend… Jan resolves to stop dating and find fulfillment as a single woman."
Where can people learn more about your writing?
www.SarkaJonae.com