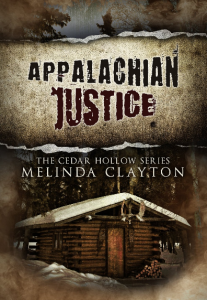 Appalachian Justice
by Melinda Clayton
Genre: Historical fiction, general fiction
Word count: 73,600
Billy May Platte is a half Irish, half Cherokee Appalachian woman who learned the hard way that 1940s West Virginia was no place to be different.
As Billy May explains, "We was sheltered in them hills. We didn't know much of nothin' about life outside of them mountains. I did not know the word lesbian; to us, gay meant havin' fun and queer meant somethin' strange."
In 1945, when Billy May was fourteen years old and orphaned, three local boys witnessed an incident in which Billy May's sexuality was called into question. Determined to teach her a lesson she would never forget, they orchestrated a brutal attack that changed the dynamics of the tiny coal mining village of Cedar Hollow, West Virginia forever.
Global Ebook Gold Winner in 2013, a finalist for the University of North Carolina-Wilmington's Synergy Program in 2013, and voted Sapphic Readers Book Club Book of the Year in 2011 (under a different imprint), Appalachian Justice is a work of southern fiction that delves into social issues such as poverty, domestic violence, misogyny, and sexual orientation. Ultimately, however, Appalachian Justice delivers a message of hope.
This book is available from Amazon, Smashwords, and Barnes & Noble.
Melinda, how did you come up with the title for your book? Does it have any special meaning? 
My mother is from West Virginia. She used to tell us stories from her childhood, stories about a cousin they called Snuffy Smith, and an aunt who was still chopping firewood into her eighties. It's as if the title were just waiting all those years to be used.
Who was your favorite character and why?
Billy May Platte, without a doubt. She's tough yet vulnerable, damaged but hopeful. In spite of what happened to her she maintains a goodness about her, almost a naiveté.
Does your book have any underlying theme, message, or moral? 
If there is an underlying theme it's about hope. I'm also a psychotherapist (though no longer practicing), and I was always amazed at the resilience of the clients I worked with through the years. It's never too late for a second chance.
What would/could a reader or reviewer say about this book that shows they "get" you as an author?
One reviewer on Amazon remarked that to make this book solely about sexuality is a disservice to Billy May Platte and to the story itself. I love that review, because I felt as if he absolutely understood what I was trying to convey.
Give us an excerpted quote from your favorite review of this book: 
"This is a poignant and totally engrossing story with well developed characters that will break your heart and then heal it leaving memories that are not truly your own."
Where can people learn more about your writing? 
Wordpress: http://melindaclayton.wordpress.com/