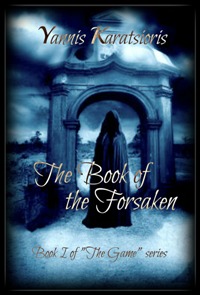 The Book of the Forsaken (The Game, #1)
by Yannis Karatsioris
Genre of this Book: Contemporary/Metaphysical Fantasy
Word count: 52,000
The Magi, the most powerful of men, confront the supernatural beings – the Forsaken races- in a deadly Game to control the collective unconscious of mankind.
An ancient demigod, our storyteller, stands between the two sides and unfolds his plans to outflank them. For this, he traps in his web Igor Rubinstein, a dark trickster with shadowy desires, Robert Cassidy, an outspoken ex-convict with a passion for nicknames, and Daniel Maladie, a cowardly bibliophile with exotic looks. For the demigod's plans to take effect, these three have to steal the Book of the Forsaken, a long-lost artifact that holds ancient knowledge about the survival or extinction of the supernatural beings.
The relic resurfaces in modern Europe and the hunt begins.
This book is available from Amazon, Barnes & Noble, and Smashwords.
Yannis, how did you come up with the title for your book? Does it have any special meaning?
Yes, the 'Book of the Forsaken' is the artifact everybody is after in the story.
Who was your favorite character and why?
Definitely my narrator, because of his unique status as a demigod, which allowed sarcasm slip through his voice, and because through him I found a vehicle for the philosophical/metaphysical opinions I wished to express through this series.
Does your book have any underlying theme, message, or moral?
Yes. That no matter how powerful one gets, there's always another standing with the first one's fate in his hands.
What would/could a reader or reviewer say about this book that shows they "get" you as an author?
He or she would have to comment on the way I attempt to bring together concepts from different fields –religion, philosophy, sociology, anthropology, history, metaphysics- in an unusual but effective and artistic way; in a way that they stand inspired in the end.
Give us an excerpted quote from your favorite review of this book:
"I must say, although there are lots of Urban Fantasy books published now, few authors succeed in creating a refreshing story, with a whole new take in the paranormal world."
Where can people learn more about your writing?
www.yanniskarats.com