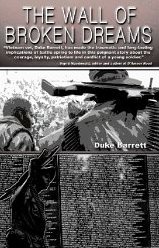 During the height of the Vietnam War, a Chicago street kid, boxer, and blues guitarist – Johnny Richards – is drafted and sent to fight with an elite Army combat platoon in Vietnam. On an "in country" R&R at Vung-Tau, Johnny meets and falls in love with Mai, a local Eurasian beauty. Johnny and Mai engage in a five day whirlwind romance, and they plan a life together in the USA after the war.
But shortly after returning to his combat unit, Johnny takes a bullet for a buddy and is gravely wounded on a combat air-assault into an enemy stronghold. Are Johnny and Mai allowed to live out their dreams? In 1983, at The Vietnam Memorial, better known as "The Wall," Johnny's hopes, dreams, and survival come face-to-face with an emotional but spiritual realization that can only be his.
The Wall of Broken Dreams, the historical fiction book by author Duke Barrett, is available from Amazon US, Amazon UK, and other online retailers.

Don't forget, you can cast your vote for trailer of the month on May 31, 2014 at 5 p.m. Pacific time.