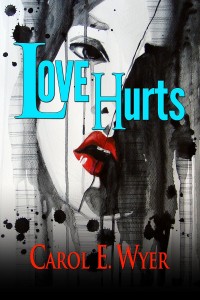 Love Hurts
by Carol E. Wyer
Genre: Dark romance, short stories
Love does not always result in 'happily ever after'. It is a powerful emotion that, in the hands of a damaged soul, can be all-consuming, dangerous and even lethal.
In this collection of five short stories—some dark, some light-hearted—written by award-winning author Carol E. Wyer, we discover what happens when love takes over.
Be prepared for a rollercoaster of emotions.
This book is available from Amazon and Smashwords.
Carol, how did you come up with the title for your book? Does it have any special meaning?
It comes from Roy Orbison's Love Hurts. The lyrics, "… love scars. Love wounds and mars." seemed most appropriate for some of the darker stories within the collection, whereas others warranted other song titles such as Love Will Tear Us Apart Again (Joy Division) and True Love (Bing Crosby)
Who was your favorite character and why?
I have a soft spot for the last character who is nameless. Rejected and alone in the world has reached rock bottom when he is befriended by a young widow called Joanna. It is a tale of pure love and has a twist that might surprise you.
Does your book have any underlying theme, message, or moral?
Only that human nature is not easy to comprehend and love is a complicated emotion. Love touches all parts of our lives and can make all the difference to how we behave and to how we grow as humans. For some, love can ultimately be destructive.
The book sets out to surprise and yet hopefully delight at the same time.
What would/could a reader or reviewer say about this book that shows they "get" you as an author?
In Love Hurts you are not only entertained, but you're pleasantly—very, very pleasantly—amazed by a range of stories you just didn't expect: a delicious mix of dark, sad, playful and cheering.
Give us an excerpted quote from your favorite review of this book:
"What surprised me most was the level of interest piqued with each story, considering how short each one is.it takes a considerable amount of writing finesse to be able to give the reader enough character background and set the scene/tone, while reeling them into the story at hand in only a few pages."
Where can people learn more about your writing?   
www.carolewyer.co.uk