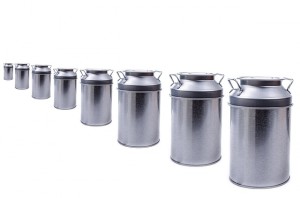 I'm a farmer and author. Hubby, however, expressly forbids me to have a milk cow despite the amount of milk we use. What does milk have to do with self-publishing anyway? Metaphorically speaking, a lot. When you milk a cow, that lovely milk hits the bucket and is all stirred up. Think of that milk as the publishing industry. Right now it's a mixed bucket of Indie and traditionally published authors all out to win your hard-earned dollar. Everyone wants to sell books. And with so many books being published, the market has become diluted. I've watched my sales drop off sharply the last few months when they should be increasing due to the holidays. They've never done that — not in the five years I've been published.
So what gives? We're back to the milk again — the mixed up, diluted milk. As authors, we are in indirect competition with everyone else. We don't step onto a field of battle and duke it out with other storytellers. No, we sit behind our computers and wage wars from there. How do we win the war? It's not easy. As with any endeavor, it takes time and money. Whole, raw milk will eventually separate. The heavy, tasty cream will rise to the top where it can be skimmed off and enjoyed while the lower fat milk sinks to the bottom. There's usually between two and fifteen percent cream in most milk, which leaves a lot of regular milk in the bucket.
Traditionally published authors have the advantages of a publisher that will edit the manuscript, create a professional cover, and pay for marketing and distribution of the book. Is the book any good? Maybe, maybe not. Only a precious amount of time will tell if the book will be a bestseller or a flop. Most traditionally published books see the light of day for three to four months before being ushered into dark obscurity. If the book doesn't sell, the publisher washes their hands of the author and moves on. It's an assembly line process that's gone on for many years.
How can Indie authors compete? Time is on our side! As Indies, we have the luxury of waiting to see how a book will perform. If it's not performing as expected, we have the ability to rewrite the book because we own the rights. We have a huge amount of freedoms that other authors don't. Time is our friend, not our enemy.
So how do we become the cream? This is the hard part. Writing is not a skill everyone is born with. Good writing takes time, patience, and diligence. To put out a high-quality book, you have to invest some money. Good books don't just appear out of thin air (don't we wish?!). They are lovingly and gently crafted works of brilliance.
As I've grown in my abilities as a self-published author, I've learned there are two things I will not scrimp on: editing and covers. Yes, both cost money — a lot of money. Quality editing of a manuscript can cost a penny a word. That's $800 for an 80,000 word manuscript! And covers can range from $100-$1,000+ for a custom job from a good artist.
How does an author afford this? Baby steps. Rome wasn't built in a day. The key to any successful person is quantity and consistency. Things like formatting and layout can actually be learned relatively free and easily, which will save you money. Writers must write. Save your pennies, but keep on writing. Publish only when you have something fantastic to show the world. Putting your best foot forward will help you quickly rise with the cream.  A writer who publishes sub-par work will only end up sinking to the bottom of the milk bucket. They will be lost in obscurity. Most will give up writing because of failure.
In the end, those who put effort into their books will survive the turmoil of the milk bucket. With the rapidly diminishing stigma of self-publishing, authors can take advantage of time and resources to create truly magnificent works of literature. Don't sell yourself short because you're in a rush to put out a book. There's still a huge, diluted sea of books out there, but wouldn't you want the best shot at getting your work noticed? Sales equate to profits, which equate to affording quality services to produce better books. That's the publishing cycle of life.
Most authors are happy if they break even after expenses. Those are the ones who write because they love telling stories. Writing is rarely a profitable endeavor, less than one percent will ever make the "big time." But that shouldn't stop someone from writing, especially if it's their passion. Indie authors can and do rise above traditionally published authors. It takes blood, sweat, tears, and sacrifice to write a book. You want to send that book out to the world as a shining example of your skills. Take the time and make it great. You will do yourself justice.