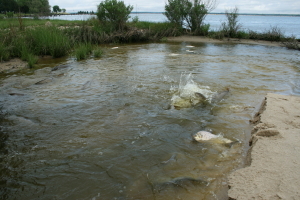 You finally get the chance to take your son fishing. You tell yourself it's not about the fish, it is about spending quality time together.
Right. Quality time in the oppressive heat, providing valuable nutrition for mosquitoes—and they were the only thing biting. Seven hours with a sulky, silent, teenager who evidently had other plans this weekend.
You finally give up and pack away the equipment for the day. Some vacation. On the way back to the car, you happen upon the spot the fish were vacationing. Does this turn the trip around? What happens next?
In 250 words or less, tell me a story incorporating the elements in the picture. The 250 word limit will be strictly enforced.
Please keep language and subject matter to a PG-13 level.
Continue reading "Week 21 Flash Fiction Challenge: Gone Fishin'"