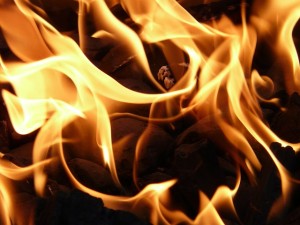 Greek-born philosopher Plutarch is credited with writing the timeless analogy: Education is not the filling of a pail, but the lighting of a fire. I have always found that quote (in its many versions) to be inspiring, evocative, and true. Education in whatever form is not meant to be merely carried around like a donkey carries a load of books; it's meant to be used, to create, to expand, and evolve into that which was not there before. At least that's the hope.
Recently I had the opportunity to facilitate a workshop on self-publishing paperbacks using Amazon's CreateSpace platform. I capped the number of students at twelve, wanting to keep the discussions intimate and responsive, and the class quickly filled up. It was a great group with lots of insightful questions and free-ranging discussions.
I was surprised by the variety of the projects. Being primarily a novelist, I just naturally think about writing fiction, but the majority of the class was working on other things: technical books, history, cookbooks, children's books, poetry. The range was wonderful, although it did make my job a little tougher, considering all the needs of the different genres.
I love the fact that we can draw inspiration from such diverse sources. One woman, a dog breeder, found the names of dog kennels across the country to be fascinating, and she planned to chronicle the names with the kennels' histories. One man used to work for the highway division in Alaska, and had collected hundreds of photos and stories of some of the daunting projects (and problems) up there over the years. Another woman wanted to create a family cookbook, setting down the recipes (and their stories) that had been used through the years. There seems to be no end to what we might write about, and no end to what readers might want to read, for I firmly believe that for every book written, there is an audience. The hard part is connecting them.
But the best part about this workshop? Lighting the fire in these peoples' eyes. In their hearts. In their minds. Letting them know that yes, it is possible to self-publish. It is possible to see their dreams become reality. I brought several of my own books so they could see the range of results, see the quality of CreateSpace books, and imagine their own books similarly done. I strongly suggested to them that they spring for a physical proof of their books before they pushed the publish button, not only to give their work one final proofread before sending it out into the world, but also (holding one of my own books) so they could know the thrill of holding their first book in their hands. Having that first book arrive in the mail, seeing it for the first time, feeling the weight of it, fanning the pages, smelling the paper and ink — it's like love at first sight. Nothing beats that. And nothing fans the fire more than that, knowing it truly is possible, and knowing that if you did it once, you can do it again.
Aside from writing itself, one of the best parts of being an indie is spreading the word that you, too, can self-publish. Encouraging. Supporting. Pointing out the way. Lighting that fire. Because once we light it, it will burn for lifetimes.