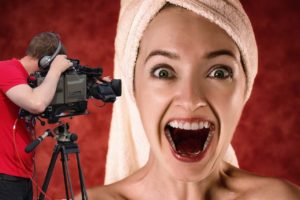 I think the reason we have so much trouble nowadays with slippery POV (Point of View) in novels is that so many new writers were brought up on film and TV. And many of these people mix up POV with camera angle. They think that because the film camera jumps all over and shows us the action from different angles, the writer can jump all over and show the action from the point of view of different characters. But these two concepts are not the same, even in film. When you move to a novel, it's a different technique altogether. Because POV is not about what anyone sees. It's about feeling what the character feels.
Most camera shots, in literary terms, are omniscient. Fly on the wall. The director chooses the shot to be from the best position to reveal what the director wants us to see. There is no pretense that the viewer is actually in that position.
The POV Shot
Sometimes, for a special effect, the director puts the camera where the character's head is and shows us only what the character sees. Giving us a claustrophobic feeling. We don't know what's around us or behind us. If you have ever been snorkelling and had someone sneak up behind you in the water and touch you, you know exactly what I mean. Very scary.
This technique is often used when someone is running away or exploring a dangerous place or in some other high-tension situation. It is very effective, because it creates a "What if I was there?" boost to our imaginations. But like most effects, it is most effective if used rarely. Blair Witch Project notwithstanding. But this is not the same as Point of View in a book or film. Remember, POV is all about feelings, not vision.
In literary terms, most films are objective third person. We see outside action only. The only way to get into a character's head is through a voiceover. Which, again, is most effective when rarely used. The big advantage the film has over the novel is that we get to see the actor's face, and this is where we perceive most of the emotion. A film that is from a certain character's POV will include a lot of close-ups of that character's face, showing us what he or she is feeling.  You can't do this in a novel. If you show us the character, you have jumped outside that person's POV, and it startles the reader.
A novelist has limited ways to tell readers how the character is feeling, so another technique is necessary.
Types of Third Person POV in Novels
Objective – we see outside action only. Thoughts and feelings are revealed only by what characters do or say.
Limited – We see what one person sees, but more important, we can tell what he is thinking and feeling.
Omniscient – We see what all the people see, and we can also see what all of them are thinking and feeling.
Almost nobody writes in third-person objective anymore. Why not? Is there a rule? No. They don't write in it because it's not moving enough. It simply cannot compete with the emotions shown on the faces of film and television actors. It's too objective, which means it is not effective at showing emotion.
But that might suggest that Limited is better and Omniscient will be best. As my old grandmother would say, "If a little bit's good, a whole lot's better." Thus beginning writers want to write in a sort of omniscient style, because they can show all the emotions of everybody.
Wrongo. And here's why.
Just like with all sorts of medications, the right dose is perfect, and too much spoils the effect. Sometimes fatally.
A Story is a Controlled Dream
Think of the emotional experience that is happening in the reader's head. When you get to the very basics, as a reader you enter an imaginary experience as if you were the hero. In other words, through the use of your imagination, you turn every story into First Person. We all have experienced dreams. Reading a book or watching a movie is a controlled dream. I don't know about you, but my dreams are all First Person, and I feel all the emotions personally.
So it stands to reason that the closest we can get to a dream in literature is the First Person, and the second closest is the Third Person Limited. In order to get involved totally in the story, we have to persuade ourselves that we are experiencing the actions and emotions of that character. We see what he sees, we feel what he feels, we think what he thinks.
And the moment the writer asks us to jump into the head of another character and experience a new set of emotions from another point of view, we wake up.
And believe me, dear writer, we don't want that. It's like starting from scratch all over again. Oh, sure. Experienced readers are good at it. If the POV changes are clearly indicated, we can hop heads all over the cast list. But we never get as close to the story as we do when we get into one head and stay there for the whole tale. Because in dreams we never get to be anyone else.
And Then There's Conflict
One of the habits of human nature that we must remember is our love of taking sides. If you happen to choose two different POVs for your book, and those characters are on opposite sides in a conflict, you really put the reader in a bind when you switch POV. Seeing both sides of a problem usually reduces our ability to take sides. Thus the conflict suffers.
Make a Good Choice
So when you're choosing the POV for your book, realize that usually you're making the decision based on your convenience as a writer. It's so much easier to show what's happening if you can look at it from any character's vision. You think that you can do that, because of all the movies you watch.
But remember that it isn't what you're looking at, it's what you're feeling. Every switch of POV causes a loss of emotional contact. It's a trade-off, and only you can decide how much you're willing to give away.