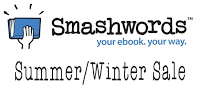 From the Smashwords Blog:
It's summer in the Northern Hemisphere and winter in the Southern Hemisphere.  This can mean just one thing:
It's time for the ninth annual Smashwords Summer/Winter Sale!
Enrollment is now open for our annual indie ebook extravaganza.  The sale kicks off July 1 and ends at 11:59pm Pacific on July 31.
The sale represents a massive collaborative marketing event for Smashwords authors and publishers.   Each author and publisher – simply by promoting their own books – helps expose those same readers to the thousands of other participating books.
For one month only, readers can discover tens of thousands of special deals 25%-off, 50%-off, 75%-off and 100%-off (FREE!).  So whether readers are looking for a great beach read or something to keep them cozy on a cold winter's night in front the fireplace, they'll find it here.
When the sale goes live, the catalogue will appear linked on the Smashwords home page. All participating books will have their participation noted on their individual book pages.
Go to https://www.smashwords.com/dashboard/sitewidePromos to enroll your books.