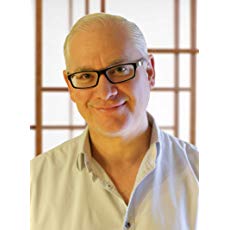 Guest Post
by Michael Poeltl
It's a fact that people engage with video almost three times longer than a static post or ad. That's your first indication that video is your way forward. The other is that video can pack a visual punch a meme or gif just can't accomplish. Consider an author reading passages from his or her book and the tension that accompanies it by standing in front of a group of people. If you're lucky, you've filled the seats. If not, that anxious feeling could ruin your night. That's stressful. Video readings, on the other hand, are completely stress-free. Do it from the comfort of your favourite chair. I was actually kind of nervous even to sit in front of the camera the first time, but with now over 20 videos behind me, the pace and comfort level at which I'm doing these video readings has increased ten-fold.
And, whereas in-person readings can go long, video readings should last no more than three minutes. You don't want to give too much away, and this is more in-step with today's short attention spans.
What's also great about video readings is the ability to edit them. You don't need to worry if you stutter or trip up on a word. You can take care of that in editing. Also, editing software can offer additional exciting visuals to your reading like graphics of your book or memes you've created. You can even animate scenes. Another fun option is to alter your voice in editing to closer resemble a character or the tone of the narrative you're reading. I've gone so far as to superimpose a graphic mask over my face as I read, to allow more of the character's narrative through to the viewer. Like a book trailer, video readings can offer a potential reader a better idea of what they're in store for while getting to know the author intimately. Show your personality and offer some information about yourself before and after the reading. Brand yourself.
I've gone so far as to read aloud my worst reviews. It's a comical take on an otherwise depressing reality that not everyone who reads your book will love it. It's a way of taking back your power without arguing with a reviewer over minutiae.
What you'll need… A decent camera. Honestly. You'll want a DSL with a plug-in directional mic that will kill any ambient noise and focus on your voice. I use a Panasonic Lumix FZ-1000 camera with a wide lens, a Video Micro RODE microphone and then edit everything with PowerDirector 16 software. I'm proficient in Photoshop as well and create my own visuals to assist with the video readings and keep the viewers' interest. This can be done with your smart phone, but it will sound like a smart phone shot it.
Additionally, in creating these video readings, I discovered a category on YouTube called Booktube which offers similar video experiences where readers review books and explain them to their audience – encouraging book sales. I now tag each video with Booktube or Booktuber in addition to other relevant tags. Another great thing about placing your videos on YouTube is that it offers a transcript of your video. This assists those searching to find keywords and phrases within the dialogue on your video.
Lastly, plan your video like a newscast. Set yourself up in the corner and leave about half the screen blank so you can add your graphics and animations. Have fun with it. Show your readers and potential readers who you are. If you write non-fiction, become the expert and offer interesting facts about your genre. There's no limit to what you can accomplish with video. I add my videos to my Facebook page, Goodreads page, and YouTube channel. My Amazon Author Page seems to want smaller files than I can break them down to. Oh well. Become a video author. Become a Booktuber. Get involved in the movement. Authors are people too!
___________________________________
Michael Poeltl is a ten-time self-published author who also offers marketing tips and tricks to help indie authors get their books in front of readers. His latest novel pulls for the Sci-fi, Space Opera genre with a second in the series being written now. For more on Michael, you may visit his website or his Amazon.com Author Central Page.