Yesterday, we had an introductory article about Kindle Vella. Today, Melissa Bowersock delves a little more deeply into Amazon's newest offering.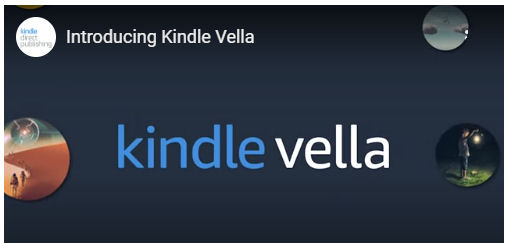 Amazon, never content to rest on its laurels, has announced a new avenue for storytelling: Kindle Vella. Many writers have already discovered the lure of publishing a serial, a short episode or a chapter at a time. Hugh Howey's Wool, if you remember, started as a short story, then he expanded on the series little by little. It was already wildly popular before he accepted a six-figure deal with Simon & Schuster.
We've all seen how some series, either books or movies or both, can garner a large following. If we've got a captivating story line with complex characters interacting in interesting and surprising ways, our readers want to know what happens next. And while some of us might go months, even years between books — possibly losing readers during the hiatus — a series of short chapters released relatively quickly can keep those readers engaged and wanting more.
Okay, so how does it work?
First of all, Kindle Vella will only be available to US-based authors writing in the English language; our counterparts in other countries will have to wait to see if it gets expanded. Readers will be able to access it on the Kindle iOS app and on Amazon.com. The program is not operational yet, but should be by mid-July, according to Amazon. Even so, authors can submit their work prior to the launch, and their stories will go live as soon as the program does. If you'd rather wait until the program is fully operational, you can publish your work with a scheduled release date.
Amazon suggests publishing your series as one 600-5,000 word episode at a time, and also recommends publishing the first few episodes quickly so readers can dive right into the story. There will be a Kindle Vella store where your stories are marketed, and readers will pay by buying Tokens that unlock the episodes. The first few episodes of any series will be free, but then the number of Tokens needed to unlock an episode will be determined by word count: one Token per 100 words. Authors will receive 50% royalties on the amount readers spend on Tokens.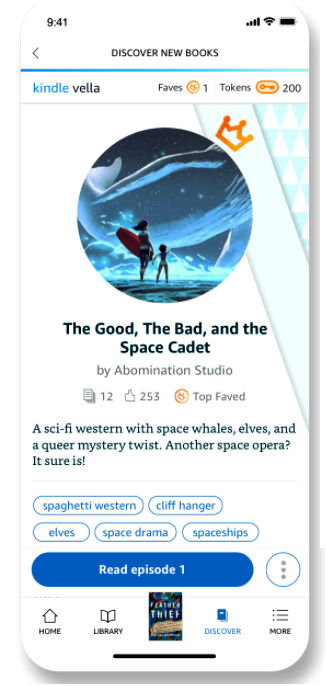 In order to keep the Kindle Vella experience unique, authors may not publish the same content as a book. If, at the end of the series, you do decide to format it as a book, you must unpublish it from the Kindle Vella library. Likewise, you cannot break down a previously published book into episodes for Kindle Vella. If your work is a continuation of a previously published book, you may, however, include up to 5,000 words from that prior book in your first episode to set the stage. Content that is freely available in the public domain or online is not eligible for Kindle Vella.
Amazon is also introducing some new features that will allow readers to interact with your story in ways similar to social media. Readers can follow authors and sign up to be notified as soon as new episodes are released, and they can give episodes they particularly like a thumbs up. They will be able to assign a Fave every week to the story they enjoyed the most, and the stories with the most Faves will be featured in the Kindle Vella store. On the flip side of this, there will be ways for the authors to connect more personally with the readers. You'll be able to leave author's notes at the end of each episode where you might give some background about the action or the characters, or perhaps give a hint about the next episode to come. All of this could make for an interesting exchange between authors and readers.
So, do you have a serial in you? Maybe now's the time to take the leap and dust off an old idea or start a new one.