Author Bridget Straub is pleased to announce the release of her new contemporary fiction/chicklit novel, On a Hot August Afternoon.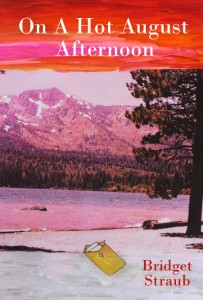 Stacey is an artist whose rock star husband, Pete, has been on tour for several weeks. She and their two young children, are about to join her in-laws at the family compound in South Lake Tahoe for her sister in-law's wedding. There, she'll be reunited with Pete. However, she is blindsided when she goes to her mailbox and discovers an envelope of explicit photographs of her husband and another woman. Suddenly, she's left questioning everything she thought she knew about the man she never meant to fall in love with.
On a Hot August Afternoon was self-published  on May 3, 2012. It is available as an e-book and in print from Amazon.