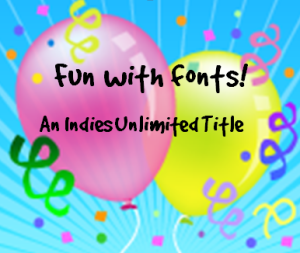 Not long ago, an author asked me to take a look at her book cover while she was designing it. The old-style oil painting in the background was very nice – but I thought the title font was too modern. So, I searched for some rustic fonts online and gave her the links.
"Okay, now what?" she asked.
Hence, the reason for this tutorial. (By the way, she ended up going with a great font that fit the cover perfectly!)
There are lots of websites which offer free font downloads. As with anything you do online, check to make sure that before you open anything – you've ascertained it does not contain a virus, and check the licensing terms as far as usage goes. Some designers only allow free font downloads for personal use. Personal use is basically anything that does not generate financial income. Things like personal scrapbooking, family or non-profit websites, or anything printed to be used for non-profit organizations.
For a book cover, author website, advertising flyers, and/or swag – these items would fall under commercial usage. In these instances, if you really really want to use that font and it's marked for personal use only, you would need to contact the artist directly to see what the terms would be.
So, with that out of the way, let's locate a font to download. I've decided to try 1001fonts.com since Melissa Bowersock recommended them. What's neat about this site is it actually gives you the opportunity to see what your book's title (or whatever you need it for) will look like in the typeface before you download it. See screenshot below: Continue reading "How to Download and Install Fonts"