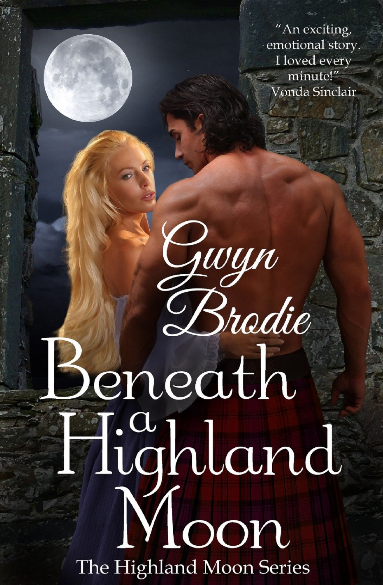 Beneath a Highland Moon
by Gwyn Brodie
Available exclusively from Amazon.
After her clan's castle falls under siege, the fair-haired Lady Jillian MacRae finds a way to escape with her four-year-old brother, seeking help from the handsome Kade MacLachlan, laird and master of Ravenskull Castle. Four years past their love had been strong—until her father betrothed her to another man who was later killed.
Now, it is Kade she turns to for help in regaining control of her own castle from the wicked man who has taken over and intends to marry her. Once she is again face-to-face with Kade, she realizes the love she thought she'd put aside is alive and thriving.
Kade is speechless when the beautiful Jillian offers herself to him in exchange for protecting her young brother and banishing the intruders from her castle—an offer he is more than willing to accept. He has no intention of allowing her to slip through his fingers again. And when her life hangs in the balance, he will not let anything—or anyone—stop him from saving her, even as his own life dangles by a thread.