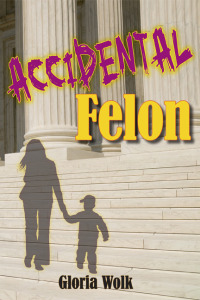 Author Gloria Wolk is pleased to announce the release of her legal suspense novel, Accidental Felon.
Carly Daniels, a single mother with a special needs child, never knew her employer was part of an industry known for fraud–until the FBI raided their offices. Her knowledge of law and courts is from television drama. Although innocent, she is indicted. She refuses to plead guilty and goes to trial, where she must sit mute while listening to witnesses lie about her. As the bottom falls out of her world, Carly must prepare for years in prison–the federal system does not have parole–and find ways to prepare her young son.
"Wolk's taut legal thriller powerfully depicts an innocent woman caught up in the machinery of the criminal justice system." – Publishers Weekly
Accidental Felon was released in August 2012 by Bialkin Books. It is available on Amazon.com, Amazon UK and Barnes & Noble in print and as an e-book.