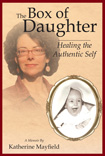 Paul Collins at the Nashua Telegraph says, "Every now and then, a book comes along that's written in such a compelling and gripping way that the narrative has the power to stay with you long after you've read the last page. Such is the case with The Box of Daughter by Maine author Katherine Mayfield."
But that's not the only good news for author Katherine Mayfield. Her memoir, The Box of Daughter, is also a finalist in the 2012 Reader's Favorite Book Awards.
The Box of Daughter is the compelling true story of the author's struggle to recover from childhood emotional abuse, and her quest to raise her self-esteem and create a more authentic life.
Bullied by her religious mother in childhood, the author pursued a professional acting career in her twenties and thirties, appearing Off-Broadway, in independent films, and on the daytime drama Guiding Light. Entering therapy in her thirties in response to a divorce, she began to unravel the threads of dysfunction in her family. Continue reading "Congratulations to Author Katherine Mayfield"