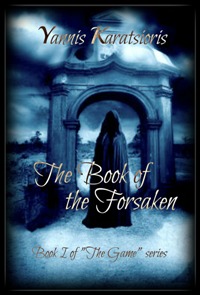 The Book of the Forsaken (The Game, #1)
by Yannis Karatsioris
Genre of this Book: Contemporary/Metaphysical Fantasy
Word count: 52,000
The Magi, the most powerful of men, confront the supernatural beings – the Forsaken races- in a deadly Game to control the collective unconscious of mankind.
An ancient demigod, our storyteller, stands between the two sides and unfolds his plans to outflank them. For this, he traps in his web Igor Rubinstein, a dark trickster with shadowy desires, Robert Cassidy, an outspoken ex-convict with a passion for nicknames, and Daniel Maladie, a cowardly bibliophile with exotic looks. For the demigod's plans to take effect, these three have to steal the Book of the Forsaken, a long-lost artifact that holds ancient knowledge about the survival or extinction of the supernatural beings.
The relic resurfaces in modern Europe and the hunt begins.
This book is available from Amazon, Barnes & Noble, and Smashwords. Continue reading "Book Brief: The Book of the Forsaken"