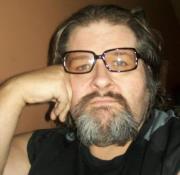 Taking over the world one word at a time is a tough business. It's even harder when you don't have your own trivia master. That's my theory anyway. Enter Rich Meyer, author of multiple trivia books and all-around smart guy. I am pleased to announce Rich has joined the team here at Indies Unlimited as a monthly contributor. Readers will enjoy the fun and games and Rich's dry humor and acerbic wit.
Rich is a freelance writer, e-book author and reviewer of random things. He is also a member of the Old Time Radio Researchers group, and was a card-carrying member in good standing of the last incarnation of the Mister Ed Fan Club.
Rich has been a life-long fan of comic books, giant monsters, old-time radio, cartoons, 50's science fiction flicks and TV, progressive rock, the music of Frank Zappa, weird cinema, Doc Savage, Mego action figures and all sorts of other geeky stuff. He is an avid trivia player, and has participated in the World's Largest Trivia Contest (in his hometown of Stevens Point, Wisconsin) for over twenty-five years.
Rich's reviews and other meanderings can be found at http://richsrandomreviews.blogspot.com.
Please give Rich a warm and friendly, yet also safe and politically correct welcome to the Indies Unlimited fold.
[subscribe2]