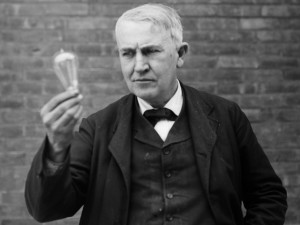 [IU Contributing Author Jim Devitt is taking the week off to move some money to an offshore account or move to a different house or maybe move to the music. I'm a little foggy on the details. Anyway, here's a selection from Jim's greatest hits. Enjoy. – Hise]
Are you a serious writer? What does that mean, exactly?
I'm sure you are all familiar with the famous quote by Thomas Edison about invention being 99% perspiration and 1% inspiration.
If that were the case, a serious writer would not wait around to be inspired to produce their work. You would grab your lunch pail and show up at work every day to pound out 3,000 words or more. Continue reading "Best of Devitt: What do we need to make it work?"