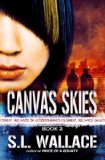 Canvas Skies
 by S.L. Wallace
The Terenian government has worked hard to divide the haves from the have-nots. Guy Bensen, Elite bachelor of the year, wants what's best for the realm. Thief/hired killer, Keira Maddock, wants the same. Together, they will become the leaders they never wanted to be.
Fleeing a dark past, Keira's sister, April, has left her baby in the realm across the sea and has returned to Terene. With the arrival of two very different men, her life becomes complicated. In order to be safe, April must hide her identity, but in order to live, she must open her heart.
Canvas Skies, the dystopian political thriller, is available through Amazon.com and Amazon UK. 

Don't forget, you can cast your vote for trailer of the month on February 23, 2013 at 5 p.m. Pacific time.
---