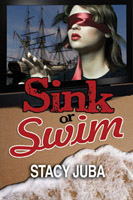 Today we have a sneak peek of the mystery novel by Stacy Juba: Sink or Swim.
After competing on a reality show and returning to her normal life, Cassidy Novak discovers she has attracted a stalker. She struggles to focus on her health club job, but as her former competitors get knocked off one-by-one, Cassidy refuses to play by the stalker's bizarre rules. She's also being shadowed by photographer Zach Gallagher, who has been assigned to capture her personal moments for the local newspaper. She wants to trust the mysterious Zach, yet fears he may not be what he seems. When the stalker forces a showdown, Cassidy must once again walk the plank…this time for her life.
This book is available as an eBook, paperback, and audiobook from Amazon, Amazon UK, Smashwords, and Barnes & Noble.
Here is an excerpt from Sink or Swim