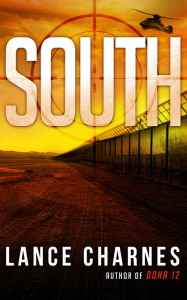 Today we have a sneak peek from the thriller by Lance Charnes: South.
Life is cheap and hard in the America of 2032. Fugitive FBI agent Nora Khaled and her family must escape the detention camps holding over 400,000 American Muslims. Ex-coyote Luis Ojeda must repay a crushing debt to the Pacifico Norte cartel. Luis' task: lead Nora into civil war-wracked Mexico. But when the FBI accuses Nora of terrorism, Luis learns her real motive for heading south: she has proof that the nation's recent history is based on a lie that reaches to the government's highest levels. Success may set Luis – and the truth – free; failure means disappearing into a black-site prison…or a gruesome death for them all.
South is available from Amazon, Barnes & Noble, and Amazon UK.
Here is an excerpt from South…