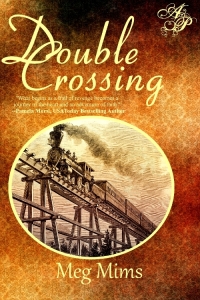 Western Writers of America has named Double Crossing, the western historical mystery by Meg Mims, "Best First Novel" in the 2012 Spur Awards.
A murder arranged as a suicide … a missing deed … and a bereft daughter whose sheltered world is shattered.
August, 1869: Lily Granville is stunned by her father's murder. Only one other person knows about a valuable California gold mine deed — both are now missing. Lily heads west on the newly opened transcontinental railroad, determined to track the killer. She soon realizes she is no longer the hunter but the prey.
As things progress from bad to worse, Lily is uncertain who to trust—the China-bound missionary who wants to marry her, or the wandering Texan who offers to protect her … for a price. Will Lily survive the journey and unexpected betrayal?
Double Crossing is available in paperback and electronic editions from Amazon.com, Barnes & Noble and Smashwords.You can learn more about Meg and her book on her website, and you can read the full announcement on Western Writers of America's website here.