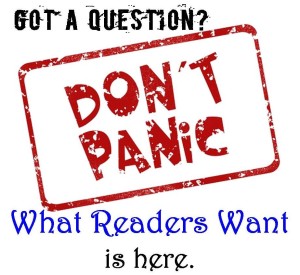 As an author, do you ever struggle with a decision about your book and wonder, "What would a reader say?" You probably aren't the first author to wonder about that same thing. Indies Unlimited has two reviewers on our staff, the fabulous Cathy Speight and venerable Mr. BigAl, who are here representing readers. In this series, we'll pose your questions to them for their take and encourage other readers to weigh in with their thoughts.
First the question from the author:
Do readers like short story collections by the same author? How long should they be?
Yes and no. Or maybe my answer should be that this is the wrong question (actually questions) to ask. My friend, Mike Crane, has written some fabulous short stories. (I especially recommend his collection called In Decline.) But he'll tell you that the short story market is tough. Compare the overall Amazon sales ranks of the top selling short story collections and anthologies to the top selling novels and you'll come to the conclusion that readers prefer novels. So the first unasked question should be: do readers like short stories, whether bundled together or not? Obviously some do, but the majority either don't like them or at least buy and read them infrequently.
None of that means you shouldn't write or publish short stories though. Only that you should recognize the market for them is relatively small. Just like you shouldn't refrain from writing the novel combining dino-porn and regency romance, if that's the story aching to get out. For all you know, it could turn into the next Fifty Shades.
Which leads me to the next unasked question (but possibly implied) of whether it is preferable to have your short story in an anthology with other authors or as part of a collection of short stories all written by you. There is no reason you can't do both, assuming the anthology is willing to accept a previously published story or, if it comes first, you're allowed to republish it in a collection of your own. Each of these story bundles is aimed at a slightly different market. While you'd promote either to your current readers, the goal as I see it is different. The collection (a bundle of short stories by one author) is aimed at satisfying the demand for your writing from your readers, past, present, and future. The anthology (a bundle of stories by multiple authors) is aimed at converting the fans of other authors into fans of yours.
As for length of a collection, I think the ideal length is in the range of a long novella or a short novel. Say 30,000 to 60,000 words. A collection of this length can be priced like a novel, has enough to it that a reader doesn't feel like it was over as soon as they started reading, yet doesn't stretch on too far. This assumes the individual stories are at least a couple thousand words each with some more toward the top of the short story range for length (7-10,000 words, depending on who is defining it). For flash fiction or a collection of ultra-short works, my answer would be different.
If you have a question you'd like considered for our "What Readers Want" series, drop us a line by using the contact form. Please put "What Readers Want" as the subject line. Cathy and BigAl will choose from the questions submitted for future posts. Please make sure to let us know if you want to remain anonymous. If you're lucky, they'll both answer your question. Maybe they'll even agree with each other.