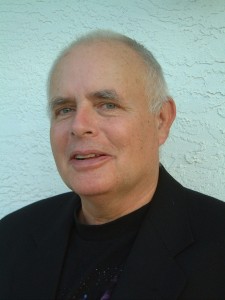 Canadian writing legend Ed Griffin passed away recently leaving a legacy of several books, a thriving writer's festival, and a family who adored him. But he left us with much more.
---
I lost my mentor this past July. Ed Griffin passed away. His life will be summed up far more ably by others, and his accomplishments will be documented in many other places. Instead, I'd like to pass along some of the things I learned from him. Some of you may be familiar with Ed's lessons from his online posts (including this website), or attending his writing classes. For those of you who didn't have the privilege of meeting him in person – please imagine a fiery, pasty white guy, in love with the spoken word – warmly, strongly, and passionately teaching you these lessons.
I took Ed's writing classes twice. One of the reasons I repeated was to see him teach one particular section over again. He'd stand in the middle of his students (because we always sat in a circle), pick up a piece of blank paper, and say "Fiction is truth. Agree or disagree? Write something down."
Then, he'd walk away.
When the questions began, because there was always 'that guy' who would ask questions, he'd ignore them and tell us all, including "that guy", to just write. And, we did. The discussion afterward was magical. We'd talk about what it took to capture a reader's attention. And, we'd talk about how we needed to lose ourselves in our stories to truly connect with our readers. We all had our own ideas about what truth in fiction really meant. For Ed it meant writing with integrity. He didn't know any other way.
When Ed critiqued your manuscript he often had strong feelings on what worked and what didn't fit. It's what we all need even though from time to time we fight it. Sometimes he'd sense an uneasiness in the writer he was assisting, and he'd offer the following:
"Listen to everything I say very carefully. Make the changes or throw them out the window. It's up to you. I might be right, but then again, I might be wrong, because remember, nobody knows your story better than you do."
He was right.
When Ed taught classes or gave readings he didn't care whether there were hundreds of writers listening to him or only two or three. It didn't matter; he always gave everything to his audience. He told me once about a class he'd taught where there had been very few people, but one lady in the audience got it. She'd attended one of his talks two years previously. Since then she'd been waking up at four a.m., long before her children woke, so she could crank out a couple thousand words. She'd done this for four or five mornings a week and had managed to write a novel, but she wasn't sure if it was readable. Ed set her straight. After spending a couple of hours with him she gained enough inspiration to reach the next level of her journey. As he told me her story, his face lit up. He didn't care about the who, the where, or the how many; he gave everything he had, and he always touched someone with his wisdom and encouragement.
Ed never stopped helping people. There was no threshold at which he took a pause. He never thought of backing off or retreating. I asked him for some assistance for a class I was teaching late last year. I told him over the phone that I was lost. In between his cancer treatments he met me for coffee. He had photocopied material that he thought would help. Sweating from the challenges of his medical condition, and the strain of still trying to help others, he explained how he thought I should handle the assignment. He offered some insight, and then he told me how they should change the format at the writing retreat the following year.
Ed had no off switch; he just kept helping despite the fact that he'd been fighting cancer for years and knew he didn't have long.
A couple of years ago when chatting about his books, Ed suddenly began talking about his legacy. He wanted to leave a legacy in particular for his family. He didn't realize that he already had. It wasn't just his work that he left behind. I don't think he knew how many of us he touched, or how many of us he helped. I've met a lot of good people in my life but very few great ones. Ed was one of the great ones. He made me believe, and he helped me change my life. His lessons will always be with me. I'm proud to have been able to share some of them with you.