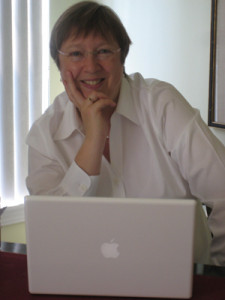 Guest Post
by Jane Steen
I never intended to get into the business of selling books directly to the public. Yes, the profit margin's higher — $2 to $3 more per book than selling online or through a bookstore. But a sale online comes with a hike in my sales rank, and vendors take care of sales taxes and shipping — so why should I bother?
But I started getting invited to local events, accompanied by: "And we'd love it if you could bring books to sell." Fine, I can do that, I thought. What would I need? A receipt book, some method for keeping records, a means of taking credit card payments, and … oh heck. I'm going to have to charge sales tax. I'm an Illinois resident, and in Illinois, there's no lower limit under which you're free to sell merchandise without charging sales tax. You're required to charge it whether you sell goods as a professional or a hobbyist.
A quick investigation revealed that many writers I knew either didn't know the rules or kinda sorta knew about them but decided that nobody was going to enforce them. That's probably true, but I conduct my (very small) fiction writing business as just that, a business. Ignoring a business obligation might hinder growing that business, and cause me administrative headaches trying to catch up later.
I realized I could take care of the receipt, credit card, and record-keeping all in one by using PayPal Here. The app, downloaded onto my phone, would allow me to enter cash payments as well as swipe credit cards (via a triangle-shaped reader) and send receipts. Recording cash payments was for record-keeping and receipts only, and wouldn't cost me anything; card payments would be subject to PayPal's usual charges.
There are systems other than PayPal Here, of course. My reasons for opting for PayPal were its ubiquity as a payment system, and my familiarity with PayPal, which I've used for years without problems to receive and send personal and professional payments. I suspect the web/mobile-based payments industry is going to boom over the next few years, and I'll be watching PayPal's competitors closely — but for now, I'll go with tried and trusted.
I decided to open a business PayPal account alongside my personal one. The app and card reader were easy to set up and use. And now for the dreaded sales tax …
I can't say the Illinois sales tax website is user-friendly. It looks like it was designed in 1995 and definitely hasn't embraced the age of online entrepreneurship, but I managed to work my way through the steps fairly quickly. When I began self-publishing in 2012, I set up an Assumed Business Name (aka a Doing Business As or DBA) as an imprint name, Aspidistra Press, so I used that name in my application. I discovered I had to obtain an Employer Identification Number rather than use my Social Security number, but that didn't take long. With my EIN I completed my REG-1 (Illinois Business Registration Application) and was ready to start charging sales tax.
The whole process described in the last two paragraphs, plus setting up an email account for my new website so I could use that for my PayPal business account, took 90 minutes. I encountered a slight hitch when I received a communication requiring me to file for sales taxes right back to the date when I got my DBA in 2012 — but that was easily solved by calling the tax office and explaining that I was just trying to sell a few books for the first time, and had made no sales before this. The friendly employee canceled out all the back tax demands.
When you first register for sales tax in Illinois you're required to file quarterly returns, and then the tax office decides whether you should be filing monthly, quarterly, or yearly. I've just filed my first ST-1 and paid the tax due (which took five minutes) and I'm confidently expecting that, with my low sales, they'll switch me to yearly filing pretty soon.
So now I'm all fired up to look for opportunities to sell my books locally — not so much for the money as for the exposure. I can face invitations to speak and sell without qualms, and all at the cost of $0 and less than two hours' work. Definitely worth it.
---
Jane Steen was born in England but now lives in the Chicago suburbs. She writes historical fiction. You may learn more about Jane at her website or on her Author Central page.