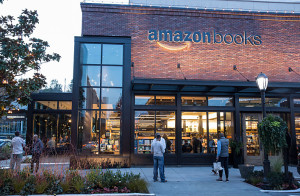 Great speculation is abundant in the continuing saga of the Amazon Brick and Mortar Store. A year ago, our Lynne Cantwell wrote about a physical Amazon Store coming to New York City. It was reported back then that they would be the first physical store in Amazon's arsenal. It turns out that this is not the case.
However, it is true that Amazon does own a 17-year lease on the space. While the world wondered about the "Miracle on 34th Street," Amazon quietly opened its first physical bookstore in its hometown of Seattle, Washington. On November 3rd, the online selling giant opened their doors for book browsing.
Hah! Wasn't the mission of Amazon to do the opposite? Weren't they supposed to change the world and have all humans reading on the Kindle? Goodbye tree-killing books! Maybe they did exactly what they set out to do. The giant book retailers are all but gone. Borders … kaput. Barnes & Noble … struggling.
So, why did Amazon jump into the physical bookstore game? Does it consider itself an indie bookstore? In some ways, yes.
Here's the interesting thing; independent bookstores are on the rise. According to data released by the American Booksellers Association and reported in the New York Times, the number of independent bookstores has risen 27% since 2009. While most of the giant bookstores are reporting losses, the independent bookstore is showing an 8% growth. So why is Amazon getting into this game?
Maybe it's because they earn two billion dollars a quarter and have some cash burning a hole in their pocket. Admit it, if you had that kind of cash, you would probably open a bookstore, too!
Some of the things you would find are very Amazon. Nearly all the books are displayed cover-out for better browsing, almost like looking through selections online. Amazon will use their copious amounts of data to help stock and sell books. The familiar "Amazon Review" can be found below each book with a chosen review and overall star count as you would find online.
I'm sure you're thinking that they've jacked up the prices to support all the bricks and mortar, right? Wrong: the store will have the exact same prices as you would find online.
Here's the question. Why is Amazon going in this direction? Will it destroy the indie bookstore? What are your thoughts on this move? Does the Indies Unlimited family look at this as a good thing or the further demise of the book world? I would love to know what you're thinking.