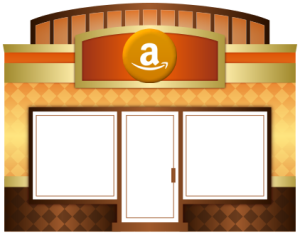 The news broke late last week: the Wall Street Journal reported that Amazon is renting retail space in Manhattan. The retailing juggernaut's first brick-and-mortar store will be located on West 34th Street, across from the Empire State Building, and just a block from Macy's flagship store on Herald Square.
But Barnes & Noble can rest easy. The word is that the Amazon store won't stock books. Instead, it's likely to be mostly warehouse space for returns, in-store pickup, and same-day order fulfillment for impatient New Yorkers. Inventory will probably be limited, according to the Journal, but eventually the store might carry electronic gizmos such as Kindles, Fire smartphones, and Fire TV devices. In any case, the facility ought to be up and running in plenty of time for the Christmas shopping season.
This hybrid online/storefront model isn't as weird as it sounds. Other retailers have already done it – most notably Apple. Remember when Apple Stores were a novelty? And Amazon itself dabbled in grab-and-go retail during the 2013 holiday season, when it put vending machines for Kindles and other small electronic items in certain shopping malls.
In fact, this isn't the first time Amazon has thought about opening a storefront. Two years ago, the Journal reports, the Zon scouted locations in Seattle before shelving the idea because the sites it was looking at wouldn't have had enough foot traffic. That's probably not going to be a problem in Midtown Manhattan. And if the experiment there succeeds, it's possible Amazon will set up storefronts in other cities – much as it's slowly rolling out same-day delivery in major metropolitan areas.
As it happens, I had a chance to try Amazon's same-day delivery service not long ago. I didn't need the item I'd ordered that fast, but just for fun, I sprang for the extra five bucks to see how it worked. It went like clockwork: within hours of ordering my item online, I had a box from Amazon in my hot little hands. The process wasn't quite as fast as if I'd driven to Best Buy – but then again, I didn't have to get dressed and get in the car. My only regret is that my order didn't come by drone.
Is there good news in this for indie authors? Well, maybe. For one thing, it will be easier for harried holiday shoppers to pick up a Kindle on impulse for Uncle Chuck or Aunt Dottie, thereby giving us one more reader who will be looking for content to fill up that new device. And speaking of holiday shopping: same-day delivery, baby. We'd be able to take a quick break to shop, then go back to writing, and still have our gifts under the tree that night – and all without having to put on a bra.
Um. Did I just overshare?