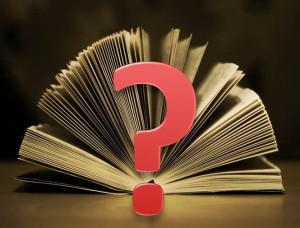 I've had to ask myself a question recently:  why on earth do I bother reviewing books?  Actually, I know why I started to … it coincided with the purchase of my Kindle. I fancied an anthology of my opinions and what I thought of all the books I read on it because I thought the advent of digital books was quite a Big Thing. So, wait … let me rephrase that: the behaviour of authors has made me ask myself the question.
What's brought this about? Yet another slightly disgruntled author disapproving of one little criticism — despite a pretty good review — of his book. And worse, two (if not more … I haven't looked recently) of his minions/supporters/fans having a little dig as well. Bad move. They made the author look worse when he did a very good job all by himself.
So, another question is … please, authors, what on earth is it you want from a review/reviewer? I really don't know the answer.
Does your 'Please review my book' come with a 'But make sure it's a good one, or I'll attack you and get an army of supporters to do the same'? Or, when you say 'I'd be grateful for an honest review', do you mean, 'Well, not too honest'?
I will give an honest review whether you want one or not. One. Hundred. Percent. Honest. If it's good, I'll say so. If it's not, I'll say so. If it's good with a few 'buts', I'll say so. If it's bad, I'll say so and why. And even if it's a complete fiasco, I will find some virtues. But I will not lie. The review is mine for my little 'anthology', first and foremost.
I'm not saying: Don't engage with the reviewer. An author who says thank you for your review is polite, courteous and humanises him/her. But if it's to express annoyance that, 'Well, when I said honest, I didn't mean that honest', then don't do it publicly. You won't be showing up the reviewer, only yourself. The reviewer will come out better. And getting your followers to gang up on the reviewer is just professional suicide.
There's also little point trying to justify errors/misunderstandings in your book or explaining them. If they need either, you need to revisit the issues. A reader cannot be bothered with post-read clarification — s/he has moved on to the next book or four.
So, please be very clear what you are asking from your reviewer. I am close to giving it up and shutting down my review site; I'll just bin all the books I have left to review and visit the real best-selling, traditionally published authors who have learnt professional etiquette.
So. Cards on the table … please explain. What do you want from us?